Cumulative Borrowing Across the States
2003-2004 NPSAS oversampled states
Graduating seniors accumulate debt throughout their course of undergraduate study. The figure below illustrates the average cumulative debt for graduating seniors in the U.S. and for the 12 NPSAS oversampled states. Nationally, the average cumulative loan amount is $19,200. The error bars, which represent the 95 percent confidence intervals, indicate that there is no significant difference between the average cumulative debt across the 12 states.
Average Cumulative Borrowing for Graduating Seniors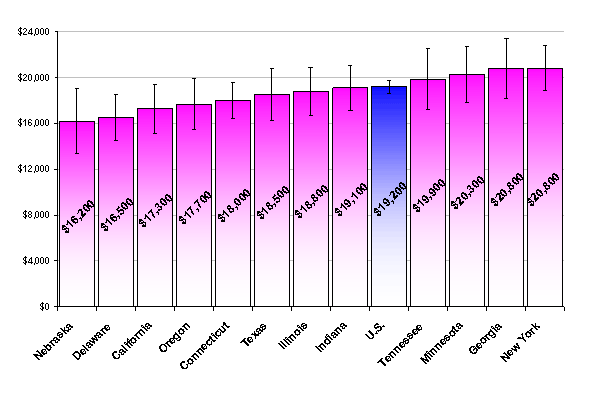 Overall, a large percent of graduating seniors borrowed in the 2003-2004 academic year (figure below). Nationally, 66 percent of graduating seniors borrowed for their undergraduate degree. The percent of graduating seniors who borrowed does vary more across the 12 states. However, the large confidence intervals indicate that there is a lot of variance within the samples.
Percent of Graduating Seniors Who Borrowed