Financial Aid at a Glance
Financial aid totaling $3.06 billion helped Minnesota undergraduates and their families pay for postsecondary education in Fiscal Year 2015. The money was provided by state and federal governments, postsecondary institutions and private sources. Minnesota undergraduates received $1.5 billion in grants, $1.4 billion in student loans, $135 million in parent loans and $38 million in federal and state work-study earnings. To quality for financial aid, students must complete the Free Application for Federal Student Aid (FAFSA).
The Financial Aid Awarded report produced once every two years contain data on grants, loans, and work-study earnings at the institution level and by type of institution. Institutional data can also be searched online.
Additional student financial aid data:
Financial aid to Minnesota undergraduates doubled from 2003 to 2015
Source of Aid: The federal government is the largest source of aid; 75 percent in loans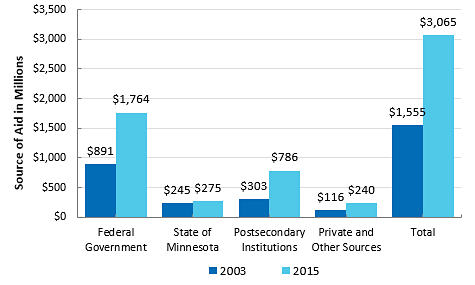 Source: Minnesota Office of Higher Education, Financial Aid Survey
Type of Aid: Grants and loans from all sources are the major type of aid; 54 percent of grant aid is provided directly by institutions enrolling students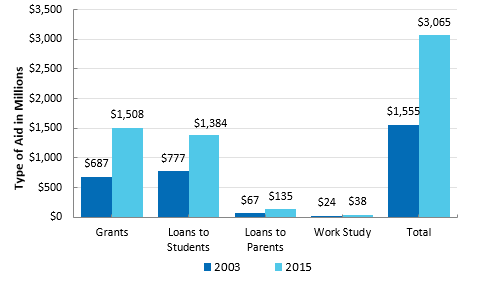 Source: Minnesota Office of Higher Education, Financial Aid Survey
Financial Aid Awarded to Undergraduates at Minnesota Institutions
Source of Aid
2003
2005
2007
2009
2011
2013
2015
Federal Government
$890,595,623
$1,014,026,092
$1,112,702,833
$1,653,086,861
$2,206,712,012
$2,047,586,989
$1,763,444,285
State of Minnesota
$245,415,817
$287,532,060
$324,634,094
$307,773,684
$387,428,358
$279,183,419
$275,265,745
Postsecondary Institutions
$203,479,512
$370,755,989
$420,973,102
$541,866,453
$663,163,566
$737,102,530
$786,374,386
Private and Other Sources
$116,481,353
$197,398,151
$265,969,582
$260,504,758
$240,384,582
$239,687,859
$239,519,421
Total
$1,555,972,305
$1,869,712,292
$2,124,279,612
$2,763,231,756
$3,397,688,518
$3,303,560,796
$3,064,603,837
Type of Aid
2003
2005
2007
2009
2011
2013
2015
Grants from All Sources
$687,483,357
$781,903,077
$864,343,958
$1,071,431,191
$1,501,752,297
$1,523,443,150
$1,507,712,055
Loans to Students
$777,226,553
$949,349,799
$1,079,720,410
$1,535,387,297
$1,689,031,977
$1,592,550,278
$1,383,568,392
Loans to Parents
$67,089,364
$99,855,268
$140,599,912
$118,704,439
$161,056,571
$139,959,733
$134,682,764
Student Earnings from Work Study Jobs
$24,173,031
$38,604,148
$39,615,331
$37,708,832
$45,847,673
$47,607,185
$38,640,626
Total
$1,555,972,305
$1,869,712,292
$2,124,279,612
$2,763,231,759
$3,397,688,518
$3,303,560,796
$3,064,603,837
Source: Office of Higher Education, Financial Aid Awarded Survey
Federal Aid Awarded to Minnesota Undergraduates
Amount of Aid

| Program | FY 2003 | FY 2005 | FY 2007 | FY 2009 | FY 2011 | FY 2013 | FY 2015 |
| --- | --- | --- | --- | --- | --- | --- | --- |
| Federal Pell Grants | $166,733,957 | $179,390,808 | $178,788,009 | $263,967,345 | $512,664,048 | $481,335,035 | $410,508,355 |
| Federal SEOG Grants | $19,646,324 | $20,925,222 | $20,628,628 | $20,622,242 | $21,197,558 | $20,926,183 | $19,346,264 |
| Federal Academic Competitiveness Grants | | | $4,610,573 | $6,507,744 | $10,380,323 | $0 | $0 |
| Federal SMART Grants | | | $3,451,522 | $3,210,231 | $7,961,670 | $0 | $0 |
| Other Federal Agency Grants | $8,258,099 | $5,968,998 | $5,169,468 | $6,698,234 | $21,776,982 | $18,501,528 | $7,719,386 |
| Federal Stafford Subsidized Loans | $233,875,007 | $273,892,454 | $295,998,660 | $410,797,996 | $685,332,255 | $643,552,870 | $525,479,384 |
| Federal Stafford Unsubsidized Loans | $190,468,256 | $210,325,683 | $246,983,899 | $477,385,787 | $742,323,243 | $692,966,605 | $616,096,314 |
| Federal Perkins Loans | $29,833,822 | $31,610,579 | $27,411,830 | $15,763,483 | $17,196,684 | $20,905,261 | $24,409,256 |
| Federal PLUS | $67,089,364 | $99,855,268 | $140,599,912 | $118,704,439 | $161,056,571 | $139,959,733 | $134,682,764 |
| Other Federal Agency Loans | $974,760 | $771,672 | $1,181,971 | $633,304 | $574,045 | $2,052,121 | $1,771,529 |
| Federal Work-Study | $24,173,031 | $20,548,458 | $19,580,563 | $20,156,879 | $26,248,633 | $27,387,653 | $23,431,033 |
| Totals | $890,595,623 | $1,014,026,092 | $1,112,702,833 | $1,653,086,861 | $2,206,712,012 | $2,047,586,989 | $1,763,444,285 |
Source: Office of Higher Education, Financial Aid Awarded Survey
Number of Undergraduates Receiving Federal Aid

| Program | FY 2003 | FY 2005 | FY 2007 | FY 2009 | FY 2011 | FY 2013 | FY 2015 |
| --- | --- | --- | --- | --- | --- | --- | --- |
| Federal Pell Grants | 76,525 | 81,816 | 80,366 | 98,691 | 153,295 | 151,399 | 122,841 |
| Federal SEOG Grants | 19,844 | 22,180 | 23,433 | 23,795 | 33,094 | 31,056 | 27,066 |
| Federal Academic Competitiveness Grants | | | 5,731 | 8,207 | 13,486 | 0 | 0 |
| Federal SMART Grants | | | 1,067 | 1,043 | 2,605 | 0 | 0 |
| Federal Stafford Subsidized Loans | 83,765 | 92,989 | 99,638 | 113,588 | 184,940 | 180,510 | 142,083 |
| Federal Stafford Unsubsidized Loans | 63,399 | 65,360 | 73,597 | 113,648 | 191,127 | 184,899 | 146,771 |
| Federal Perkins Loans | 14,372 | 13,835 | 11,900 | 7,506 | 9,447 | 10,167 | 11,521 |
| Federal PLUS | 9,868 | 13,503 | 19,204 | 13,238 | 16,226 | 14,598 | 11,900 |
| Federal Work-Study | 17,472 | 16,047 | 12,788 | 12,731 | 14,971 | 15,167 | 12,725 |
| Total Students | 285,245 | 305,730 | 327,724 | 392,447 | 619,191 | 587,796 | 474,907 |
Source: Office of Higher Education, Financial Aid Awarded Survey