Who said it can't be all fun and games? Explore the games, activities and materials below to learn how college can be part of your future.
Get Ready for College Options
QuickTime | Windows Media Player
Middle or High School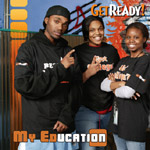 My Education is a music-based performance written and performed by students from the High School of Recording Arts in St. Paul. The project uses hip-hop rap, spoken word and skits to motivate students to overcome obstacles and make college a part of their future plans. Listen to the MP3s below for a sample of their performance. More information and MP3s are available at www.my-education.org.
MP3s for Download