Home > Research, Data & Reports > College Readiness & Participation Data > High School Student College Prep > International Baccalaureate
International Baccalaureate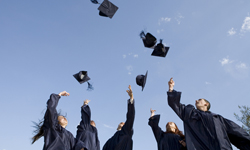 International Baccalaureate participation of Minnesota high school students
The International Baccalaureate (IB) Diploma Program is a comprehensive two-year pre-college curriculum that is offered in high schools across the globe. It is administered by a non-profit organization based in Geneva, Switzerland. In Minnesota, 20 high schools offer the IB Diploma Program. The IB Program has expanded into 16 middle schools and the Primary Years Program is offered in 15 schools serving 19,000 students. Minnesota ranks 10th nationally, in the number of IB schools.
The number of students participating in IB was 2,328 in 2010. The number of IB exams that Minnesota students have taken each year has steadily increased from 2,563 in 2003 to 4,970 in 2010. The average was 2.2 exams per student. Exams are graded on a scale of 1 to 7. Students receive a certificate for the successful passing of an exam. A total of 671 low-income students took 1,371 exams.
IB Diplomas were earned by 144 students. These students took six or more exams, completed a 4,000 word essay, and did 150 hours of creativity, action, and community service.
Minnesota High Schools that offer the IB Diploma Program
In the Twin Cities:
Central - St. Paul
Champlin Park
Edison - Minneapolis
Fridley
Great River School - St. Paul (public charter)
Harding - St. Paul
Highland - St. Paul
Minnetonka
North - Minneapolis
Park - South Washington County
Park Center - Brooklyn Center
Patrick Henry - Minneapolis
Robbinsdale-Cooper
Roosevelt - Minneapolis
South St. Paul
Southwest - Minneapolis
St. Louis Park
Washburn - Minneapolis
In Greater Minnesota:
Grand Rapids
St. John's Preparatory School
The Minnesota Department of Education prepares a guide on the credit policies for IB exams by Minnesota colleges.
Related Links