Home > Preparing for College > Prepare at School > Earn College Credit in High School > International Baccalaureate
International Baccalaureate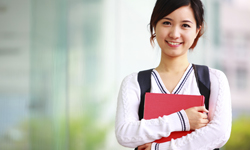 International Baccalaureate (IB) is a two-year pre-college diploma program. Students select one subject from six subject groups: the student's primary language, a second language, mathematics, experimental sciences, the arts and humanities.
IB courses are a good deal because:
Students may earn both high school and college credit. This can save you time and money when you actually get to college.

The course work is college-level. You may do better in college classes later because you'll know what to expect.

You take college-level courses in your high school. This gives you a taste of college within the safety of your high school walls.

You choose which courses to study at standard or advanced academic level. You must take at least three but not more than four advanced level classes. This gives you flexibly based on your existing level of knowledge.

You can use IB credit internationally. Since IB is an international program, foreign colleges and universities may award you college credit.
Who is eligible to participate?
You must be a high school student, but your school may require a certain academic standing or GPA before you are allowed to participate. Check with your counselor's office or school district.
Who teaches the course?
The class is taught by a regular high school teacher.
Where is the class taught?
The class is held at your high school just like the rest of your classes.
How much does it cost?
There is no cost to the student.
How do I earn college credit?
You must take an exam which is graded on a seven-point scale (4 represents the lowest passing grade). You must take an exam in each of the six subject areas and earn a total of 24 total points to receive the pre-college diploma. Students not on the diploma track can earn a certificate.
Pre-college diploma students also must complete the community service Creativity, Action, and Service program, an extended essay of up to 4,000 words, and the Theory of Knowledge course.
Do all colleges and universities accept these credits?
Acceptance and transfer of credits varies by college, but many do accept credits earned through the program. Others colleges may choose to award advanced placement instead. This allows you to take upper-level courses without taking the introductory, prerequisite courses. Some will allow you to earn both credit and placement. If you're interested in a specific college, be sure to ask admissions about their policy.
Which Minnesota high schools participate?
Minnesota High Schools Offering the IB Diploma Program

| High School | School District |
| --- | --- |
| Brooklyn Center Senior High | Brooklyn Center |
| Central High School | St. Paul |
| Champlin Park High School | Anoka-Hennepin |
| Cooper High School | Robbinsdale |
| Edison High School | Minneapolis |
| Fridley High School | Fridley |
| Grand Rapids High School | Grand Rapids |
| Great River School | Charter |
| Harding High School | St. Paul |
| Highland Park High School | St. Paul |
| Minnetonka High School | Minnetonka |
| Park Center High School | Osseo |
| Park High School | South Washington County |
| Patrick Henry High School | Minneapolis |
| Roosevelt High School | Minneapolis |
| South St. Paul Secondary | South St. Paul |
| Southwest High School | Minneapolis |
| St. John's Preparatory School | Private |
| St. Louis Park High School | St. Louis Park |
| Washburn High School | Minneapolis |
For more information on International Programs, contact the official IB website.
Related Reports
Related Pages
Related Links