Home > Research, Data & Reports > College Readiness & Participation Data > College Participation Rates > High School Graduate Projections
High School Graduate Projections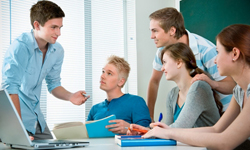 Minnesota High School Graduates to Peak in 2010
The number of high school graduates in Minnesota is projected to decline over the next seven years from 65,073 in 2010 to 59,727 by 2017, a drop of 5,346 students. From 2017 to 2023 the number of graduates is expected to increase slightly, but will remain below the 2010 number of graduates for the state. The high school graduate projections were developed by the Minnesota State Demographic Center for the Office of Higher Education.
Students of color will comprise a larger share of high school graduates in the future. The number of nonwhite graduates is projected to grow by 4,713 students, from 16 percent of all graduates in 2010 to 23 percent of all graduates in 13 years. During the same period, the number of white graduates is projected to decline 12 percent, or by 6,511 students.
For high school graduation projections from other states, see Knocking at the College Door: Projections of High School Graduates by state and race/ethnicity. This report was published in October 2013, by the Western Interstate Commission for Higher Education (WICHE), ACT and the College Board.
The projection supplement includes Minneapolis/St. Paul metropolitan area projections.
Minnesota Projections by Race/Ethnicity, Minnesota Public and Private High School Graduates
School Year End
American Indian Males
American Indian Females
Asian Males
Asian Females
Hispanic Males
Hispanic Females
Black Males
Black Females
Total Students of Color
2010
451
519
1,737
1,642
937
921
1,954
1,958
10,119
2011
430
475
1,577
1,714
957
946
1,931
2,068
10,099
2012
425
469
1,724
1,693
993
998
1,869
1,982
10,153
2013
407
445
1,724
1,678
1,046
1,013
1,763
1,895
9,971
2014
399
452
1,652
1,736
1,077
1,035
1,893
1,913
10,155
2015
390
469
1,753
1,763
1,143
1,123
1,885
2,019
10,545
2016
409
443
1,785
1,847
1,292
1,201
1,933
2,102
11,012
2017
423
469
1,757
1,789
1,214
1,286
1,961
2,175
11,076
2018
406
455
1,792
1,912
1,368
1,383
2,137
2,259
11,713
2019
411
493
2,021
2,077
1,428
1,400
2,276
2,367
12,473
2020
442
485
2,082
2,135
1,563
1,550
2,377
2,523
13,156
2021
462
506
2,226
2,165
1,577
1,629
2,365
2,468
13,397
2022
484
536
2,257
2,300
1,641
1,645
2,515
2,584
13,961
2023
477
552
2,324
2,410
1,817
1,827
2,701
2,723
14,832
Minnesota Projections by Gender, Minnesota Public and Private High School Graduates
Year
White Males
White Females
Total White
Total Males
Total Females
Total
2010
27,517
27,436
54,954
32,596
32,477
65,073
2011
27,147
27,162
54,308
32,042
32,365
64,407
2012
26,817
26,634
53,451
31,828
31,776
63,604
2013
25,827
25,893
51,720
30,767
30,924
61,691
2014
25,372
25,368
50,741
30,392
30,504
60,896
2015
24,503
24,706
49,209
29,675
30,080
59,754
2016
24,445
24,590
49,035
29,864
30,183
60,047
2017
24,154
24,497
48,651
29,510
30,217
59,727
2018
24,256
24,261
48,517
29,959
30,270
60,229
2019
24,060
24,189
48,249
30,196
30,526
60,722
2020
24,111
24,209
48,320
30,574
30,903
61,477
2021
23,544
23,660
47,204
30,173
30,427
60,601
2022
23,810
24,257
48,067
30,706
31,323
62,028
2023
24,016
24,427
48,443
31,335
31,939
63,274
Source: Minnesota State Demographic Center
Related Links