Home > Research, Data & Reports > Student Enrollment Data > Student Demographics > Residence > International Students and Study Abroad
International Students and Study Abroad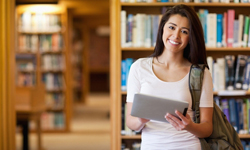 International students in Minnesota
In 2010-11, there were 12,091 foreign students enrolled at Minnesota postsecondary institutions, according to the Institute of International Education's Open Doors Report 2011. This was a 5 percent increase from the previous academic year. Minnesota was the 18th most popular destination state for foreign students. China, India, Republic of South Korea, Nepal, and Canada were the leading countries of origin for 56 percent of foreign students in Minnesota.
The University of Minnesota-Twin Cities enrolled 42 percent of all international students in Minnesota. With 5,124 international students, the University of Minnesota-Twin Cities was the 18th largest institution hosting international students in the U.S.
Other Minnesota postsecondary institutions with large numbers of international students were:
St. Cloud State University - 1,355 students (ranked 12th nationally for master's institutions)
Minnesota State University, Mankato - 708 students (ranked 39th nationally for master's institutions)
University of St. Thomas - 393 students
Minnesota State University-Moorhead - 393 students
College of St. Benedict's/St. John's University - 270 students (ranked 13th nationally for bachelor's institutions
Macalester College - 254 students (ranked 15th nationally for bachelor's institutions)
Nationally, the number of international students at colleges and universities in the United States increased by five percent to 723,277 during the 2010-11 academic year. This is the fifth consecutive year that Open Doors figures show growth in the total number of international students, and there are now 32 percent more international students studying at U.S. colleges and universities than there were a decade ago.
Minnesota students studying abroad
There were 8,904 students enrolled through Minnesota postsecondary institutions studying abroad, in 2009-10, a decrease of 2 percent, or 146 students from the previous year. Institutions located in Minnesota have ranked in the top ten states nationally in the numbers of students who studied abroad.
The following Minnesota institutions ranked in the top 20 nationally, with the largest number of its enrolled students studying abroad in long or short-term programs by institution type:
University of Minnesota-Twin Cities - 2,237 students (ranked 9th nationally among institutions awarding credit for studying abroad)
St. John's University/College of St. Benedict - 580 students
St. Olaf College - 567 students
Hamline University - 443 students
Carleton College - 306 students
Gustavus Adolphus College - 296 students
The Institute of International Education has more information on international students studying in the U.S. and on U.S. students studying abroad.