Home > Research, Data & Reports > Research Reports > Insight Newsletters > Insight Newsletter Archive
Insight Newsletter Archive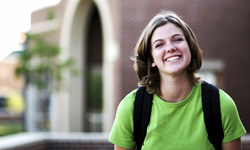 Women Earn More Degrees than Men, Mirroring National Trends (August 2002)
The Path From High School Through College (July 2002)
Learn Now, Pay Later: A Profile of Undergraduate Borrowing (July 2001)
"Baby Boom" Yields to "Baby Bust" Across Registration Loads (March 2001)
Degrees of Completion: Graduation Within Six Years (June 2000)
On the Move: New Entering Freshmen To and From Minnesota (February 2000)
Ten-Year Enrollment Increases Fueled by Students Age 35 and Older (July 1999)
Ten-Year Trend: Students of Color Make Up Most Enrollment Growth (May 1999)
The Engaged Campus: Students and Communities Benefit (February 1999)
Even After Grant Aid, Students Pay More for Postsecondary Education (July 1998)
Learning and Earning: Student Employment in the '90s (August 1997)
Borrowing Increases 33 Percent, Follows Federal Student Loan Changes (March 1997)
Tuition Reciprocity Agreements Expand Education Opportunities (May 1996)
Adults Choose to Learn in Many Ways, State Poll Shows (April 1995)
MN Taxpayers Invest $1 Billion in Postsecondary Education (March 1995)
---
Women Earn More Degrees than Men, Mirroring National Trends (August 2002)
The percentage of degrees earned by women continues to increase and mirrors national trends. The number of bachelor's degrees earned by women in Minnesota increased by 7 percent since 1990, compared to an 8 percent decrease for men over the same time.
The Path From High School Through College (July 2002)
With the exception of Asian students, students of color have persistently lower chances of graduating from high school and smaller chances of immediate enrollment in college than white students.
Learn Now, Pay Later: A Profile of Undergraduate Borrowing (July 2001)
Borrowing by Minnesota undergraduates increased faster than tuition or inflation. Defaults are relatively uncommon. The default rate for borrowers attending institutions in Minnesota was below the national rate.
"Baby Boom" Yields to "Baby Bust" Across Registration Loads (March 2001)
Students less than 24 years of age are making up an increasing proportion of Minnesota's undergraduate population. Enrollments of students in this age group have steadily increased, while undergraduate headcounts of older students have been declining.
Degrees of Completion: Graduation Within Six Years (June 2000)
While not all undergraduates intend to earn baccalaureate degrees, graduation is still a goal of most students entering four-year colleges and universities. For a variety of reasons, many students who enter college are not successful in achieving this objective. Recent changes in federal reporting legislation reflect interest by students, families and policymakers in knowing how likely students are to complete a degree at a given institution.
On the Move: New Entering Freshmen To and From Minnesota (February 2000)
Twenty-four percent of new entering freshmen in Minnesota institutions were from out of state in 1996. Twenty-seven percent of all Minnesota college bound high school graduates attended out of state institutions.
Ten-Year Enrollment Increases Fueled by Students Age 35 and Older (July 1999)
Students age 25 and older accounted for 69 percent of enrollment growth over the last 10 years. The most dramatic enrollment growth has been in graduate and professional programs.
Ten-Year Trend: Students of Color Make Up Most Enrollment Growth (May 1999)
Steady increases in enrollment of students of color at postsecondary institutions reflect Minnesota's changing population. In Fall 1997, Minnesota's postsecondary institutions enrolled 21,902 students of color, or 9 percent of total enrollments.
The Engaged Campus: Students and Communities Benefit (February 1999)
Minnesota's colleges and universities have a rich tradition of service to their communities through student volunteerism and other institutional outreach activities. The last 10 years have witnessed tremendous growth in the number of students engaged in community service activities, as well as increasingly sophisticated strategies to engage faculty and connect community service with larger institutional agendas.
Even After Grant Aid, Students Pay More for Postsecondary Education (July 1998)
Minnesota is in the middle among the 50 states in terms of net tuition and fees per public postsecondary student. This middle rank has been consistent over time. Over the last 10 years, states with the highest net tuition and fees tend to have had the largest increases.
Learning and Earning: Student Employment in the '90s (August 1997)
Minnesota's work study program, for the first time, will fund jobs in private industry that are related to the student's educational program.
Borrowing Increases 33 Percent, Follows Federal Student Loan Changes (March 1997)
Borrowing by undergraduates in Minnesota increased by 33 percent between Fiscal Years 1993 and 1995.
Tuition Reciprocity Agreements Expand Education Opportunities (May 1996)
In fall 1994, over 18,500 Minnesota residents were enrolled in neighboring jurisdictions under Minnesota's tuition reciprocity agreements. Similarly, over 13,000 residents of reciprocity jurisdictions were enrolled in Minnesota public postsecondary institutions.
Adults Choose to Learn in Many Ways, State Poll Shows (April 1995)
"Learning will become the tool of the individual, available to him or her at any age, if only because so much skill and knowledge can be acquired by means of the new learning technologies."--Peter Drucker (November, 1994) 53-80.
MN Taxpayers Invest $1 Billion in Postsecondary Education (March 1995)
Of the $1 billion taxpayers invested in postsecondary education in Fiscal Year 1994, $901 million was through public postsecondary education systems, $115 million through the MHECB, and $803,000 through Mayo Medical School.