Home > Outreach > Competitive Grant Programs > Federal College Access Challenge Grant > Aligning EPAS Results for Student Success
Aligning EPAS Results for Student Success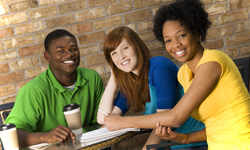 The Minnesota Department of Education is pleased to invite middle school and high school counselors to participate in a free two-day workshop focused upon using EPAS results to increase student success. Participants must bring 2007-08 or 2008-09 EPAS data to review.
The workshop will teach participants a process for utilizing the EPAS data to bring back to their districts and provide strategies to help students who took the ACT EXPLORE tests in grade eight and those who took the ACT PLAN tests in grade 10. Participants will assess individual student academic strengths and weaknesses, academic achievement and progress, and college readiness. Participants will also examine their schools' College Readiness Standards Reports, which provide suggestions for improving the student's skills in the related content area, based on the College Readiness Standards.
Participants will create a school/district implementation plan, which includes specific strategies to utilize the EPAS data to help students with planning for postsecondary success. Attendance at a follow-up workshop will be required in the spring at all locations listed below for participants to network and review their implementation plans and strategies.
SESSION INFORMATION
Dates/Locations:
 
December 2-3
Rochester Community and Technical College
Rochester
 
 
Bemidji State University
Bemidji
 
December 10-11
Holiday Inn, St. Cloud
St. Cloud
 
 
TIES Building, Larpenter and Snelling Ave.
Roseville
 
December 17-18
Southwest Minnesota State University
Marshall
 
 
College of St. Scholastica
Duluth
 
 
Time:
8:30 a.m. - 3 p.m. each day
Cost:
FREE for the first 50 counselors in each location
(Note: each district may only send two counselors, preferably one middle and one high school counselor.)
Questions about registration?
Contact Judee Ferguson at judee.ferguson@state.mn.us or 651-582-8865.
Training includes materials and lunch. Travel (hotel, meals, mileage) up to $160 will be reimbursed according to MDE guidelines, which are explained on the registration form. You will receive an e-mail confirmation upon receipt of registration. CEUs will be available.
Questions about the workshop content? Please contact:
Angie Judd, angie.judd@state.mn.us or 651-582-8478
Dr. Sally Wherry, sally.wherry@state.mn.us or 651-582- 8768
Al Hauge, al.hauge@state.mn.us or 651-582-8409
Michelle Kamenov, michelle.kamenov@state.mn.us or 651-582-8434
This training is funded by the federal College Access Challenge Grant program and administered by the Minnesota Office of Higher Education and the Minnesota Department of Education.