Home > Research, Data & Reports > Degrees, Graduation Rates & Educational Attainment > Educational Attainment Data
Educational Attainment Data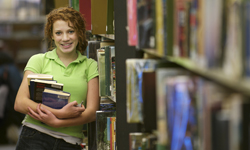 Percent of Minnesota's population with a degree
According to U.S. Census data, 46 percent of Minnesota's population age 25 to 64 attained an associate degree or higher. Nationally, 38 percent of adults have an associate degree or higher.
Educational Attainment Minnesota Population Age 25 to 64
| Educational Level | Percent | Number |
| --- | --- | --- |
| Less than 9th grade | 2% | 58,276 |
| 9th to 12th grade, no diploma | 4% | 117,180 |
| High school graduate or GED | 25% | 706,005 |
| Some college, no degree* | 23% | 652,098 |
| Associate's degree | 11% | 308,268 |
| Bachelor's degree | 23% | 654,770 |
| Graduate or professional degree | 11% | 296,239 |
Source: U.S. Census American Community Survey, 5-year estimates, 2006-2010
*Individuals in this category may have completed an occupationally specific certification below the associate degree. In Minnesota, about the same number of students earn a certificate as those who earn an associate degree annually. Minnesota is above the average in the number of people completing certificate programs compared to other states.
Minnesota Educational Attainment 2006-2010
Younger Minnesotans are receiving more education than their parents and grandparents. The population with the highest attainment level are 25 to 44 year olds; 50 percent had earned an associate degree or higher, ranking Minnesota 3rd in the country. Educational attainment rates among young adults reflect recent patterns of participation in postsecondary education.
Percent of Minnesota's Population with an Associate Degree or Higher, 1990 to 2010
Source: U.S. Census Bureau, Decennial Census for 1990 and 2000, and American Community Survey for 2002 to 2010
Minnesota Degree Attainment for Population Age 25 and Over by Race/Ethnicity
Source: U.S. Census Bureau, American Community Survey 3-Year Estimates, 2007-2010
Minnesota and Twin Cities Area rank high in degree attainment
A 2012 Lumina Foundation report, A Stronger Nation through Higher Education, ranks states and metropolitan areas with percentage of population age 25 to 64 with an associate degree or higher using 2010 Census data:
Minnesota ranked 5th as a state with 46 percent of population in degree attainment.
Minneapolis ranked 4th as a top metropolitan statistical area with 50 percent of population in degree attainment.
Top 10 states by degree attainment in 2010: Massachusetts (50.54%); Colorado (45.98%); New Hampshire (45.85%); Connecticut (45.84%); Minnesota (45.79%); New Jersey (45.3%); North Dakota (44.95%); Maryland (44.14%); New York (44.14%), and Vermont (44.07%).
Top 10 MSAs by degree attainment in 2010: Washington D.C. (54.37%); Boston (54.01%); San Francisco (52.91%); Minneapolis (50.06%); Seattle (47.97%); New York (45.88%); San Diego (43.95%); Baltimore (43.90%); Chicago (43.59%), and Atlanta (43.39%).
Mean Income Increases with Educational Attainment
Source: U.S. Census Bureau, Current Population Survey, 2009 Annual Social and Economic Supplement
Minnesota County Age and Income by Educational Attainment 2010
About educational attainment
Educational attainment refers to the highest level of education an individual has completed. Educational attainment data on populations are collected by the U.S. Census Bureau. The data currently is collected annually via the American Community Survey. Data on educational attainment are derived from a single question that asks, "What is the highest grade of school completed, or the highest degree received?" This question was first implemented in the 1990 Decennial Census and changed in the Current Population Survey in 1992. Prior to this, respondents were asked a two-part question that asked respondents to report the highest grade they had attended, and whether or not they had completed that grade. The response categories for the educational attainment question vary slightly by survey, but generally include the following categories:
No schooling completed, or less than 1 year
Nursery, kindergarten, and elementary (grades 1-8)
High school (grades 9-12, no degree)
High school graduate (or equivalent)
Some college (1-4 years, no degree)
Associate's degree (including occupational or academic degrees)
Bachelor's degree
Master's degree
Professional school degree
Doctorate degree
Depending on the survey, the educational attainment question may be asked only of adult household members. Even when data are collected from all household members regardless of age, the U.S. Census Bureau generally publishes data only for adults. Most publications focus on adults age 25 years and over, when education has been completed for most people.
More Information:
Related Pages
Related Links