Home > Outreach > Competitive Grant Programs > Federal College Access Challenge Grant > College Access Challenge Grant: School Counselor FAQs
College Access Challenge Grant: School Counselor FAQs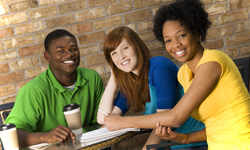 Although the College Access Challenge Grant is not currently adding new grant schools, the following FAQs may be helpful if you are a school counselor whose school is interested in being part of the grant in the future.
Is Naviance going to create more work for me?
Initially, you would need to learn the software and load your students' records; but in the long run, your job will be made much easier. Naviance staff would lead you through the process of loading students' records, and in-person training is provided as part of the grant. College and career counseling is no easy task, but with College Planner it can be easier. This secure Web-based system for college and career counselors lets schools collect and organize information about post-secondary plans. College Planner will provide tools that can help counselors focus on the entire planning and advising process. This will provide students with an increased awareness of their educational options driving them to excellence in the classroom. With College Planner, many things you may now do manually--such as identifying failing students and sending transcripts--can be automated and customized.
What are expectations for the school and the counselors?
By participating in this grant, the school agrees to use College Planner to support student advising and participate in related professional development activities, provide data on program outcomes as requested by the Office of Higher Education and the U.S. Department of Education by completing all required reports, comply with all regulations, policies and requirements as they relate to acceptance and utilization of federal funds for this project, and acknowledge federal and state support for program activities.
How much is this going to cost?
The College Access Challenge Grant will provide the basic package "Career Planner" to 132 schools free of charge through June 30, 2011. In addition to this, online user groups and face to face training with a Naviance representative will also be included through the grant.
How many training sessions are provided for grant sites?
For grant sites, a Naviance support specialist will provide a face-to-face orientation for your school counselor(s). In addition to this orientation, we also offer regional face-to-face trainings and regional and individual webinars. These sessions are held throughout the year, and we ask that your school attend the trainings as necessary. Trainings may cover anything from basic overviews to more in-depth topics such as creating custom surveys or managing student applications.
Although these Naviance trainings are only for College Access Challenge Grant sites, all Minnesota Naviance users are welcome to attend Naviance User Group events (more information below).
What type of computer do you need to run this program?
Naviance Succeed (Career Planner) is a hosted service which means all you need is an Internet connection and Web browser. When the school signs up, Naviance will establish a Site Manager account for the school to do data import of student information, configure the system options and create unlimited additional user accounts for school staff. There's nothing to install and there are never any usage charges.
What are the technical requirements our school's technology coordinator should be aware of?
System requirements: Naviance Succeed (Career Planner) requires Microsoft Internet Explorer 6 or higher on Microsoft Windows, Safari 1.2 or higher on Mac OSX, or Firefox 1.0 or higher on either platform.
Naviance will also provide your technology coordinator with a Guide to Importing and Exporting Information into Naviance Succeed. Naviance Succeed does not replace Infinite Campus, but works along with this tool. We work with many schools and districts that have Infinite Campus as their SIS and also use Naviance Succeed.
Can we still participate in the grant if our school is currently using Naviance?
This initiative is providing licensing for schools that do not currently have a program or funding relationship with Naviance. However, all Minnesota Naviance users are welcome to participate in Naviance User Group events sponsored by MACAC, a CACG sub-grantee. These professional development events allow colleagues to share experiences, ideas and advice on optimizing use of the software to support and communicate with students and parents. For more information about Naviance User Group events, visit www.mn-acac.org.