Home > About Us > Initiatives > Minnesota P-20 Statewide Longitudinal Education Data System
Minnesota P-20 Statewide Longitudinal Education Data System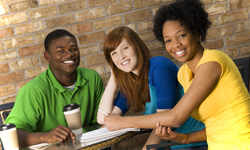 Contacts:
Meredith Fergus, Office of Higher Education, 651-259-3963
Alexandra Djurovich, Office of Higher Education, 651-259-3962
Minnesota is developing a P-20 statewide longitudinal education data system that will be jointly managed by the Minnesota Office of Higher Education and the Departments of Education and Employment an Economic Development. The system will match student data from pre-kindergarten through completion of postsecondary and into the workforce, enabling education and policymakers to answer a range of program and policy questions that can be used to gauge the effectiveness of programs and design targeted improvement strategies.
Vision: The Minnesota Statewide Longitudinal Education Data System (SLEDS) project will bring together data from education and workforce to:
Identify the most viable pathways for individuals in achieving successful outcomes in education and work;
Inform decisions to support and improve education and workforce policy and practice, and
Assist in creating a more seamless education and workforce system for all Minnesotans.
Background: The Minnesota Department of Education (MDE) strives to improve educational achievement by establishing clear standards, measuring performance, assisting educators, and increasing opportunities for lifelong learning. MDE collects and maintains information about E-12 Education in Minnesota, including student enrollment and assessment data and school information for all students, pre-kindergarten to grade 12, and adult learners.
The Minnesota Office of Higher Education serves as the state's clearinghouse for data, research and analysis on postsecondary enrollment, financial aid, finance, and trends in higher education. The Minnesota Department of Employment and Economic Development (DEED) is the state's principal economic development agency. DEED programs promote business recruitment, expansion, and retention; international trade; workforce development; and community development. DEED provides the latest and most detailed data available on employment, wages, job growth and more, as well as key economic comparisons between Minnesota and other states.
What is SLEDS? In order to answer policy questions and gauge effectiveness of improvement strategies, SLEDS will bridge existing data with incoming data. Using the four P'sPathways, Progress, Predictors and Performancestakeholders will have a framework to assess and evaluate data across systems to answer critical and long-ranging questions and build a comprehensive body of information to inform future decision-making.
The Four P's:
Pathways: The movement of individual students between K-12/Higher Education/Workforce
Who enrolls in college and when?
How many students who drop-out re-enter at a later time?
Does education lead to higher wages?
Progress: The benchmarks or transition points students meet—or fail to meet.
How many high school graduates choose college, how many choose work?
Does full-time college enrollment matter to degree completion?
What industries employ college grads and at what wages?
Predictors: The characteristics, patterns, or commonalities that help explain which students succeed and which do not.
Student demographics
Immediate vs. delayed entry into postsecondary education
Level of educational credentialing
Performance: How well are education and workforce aligned for individual success?
Where are Minnesota students and workers succeeding?
Where can we improve?
Where can we focus additional strategies and resources?
Governance: The Minnesota P-20 Education Partnership governs the SLEDS system. The project is jointly managed by the Minnesota Office of Higher Education and the Departments of Education and Employment and Economic Development. On April 14, 2010, the Minnesota P-20 Education Partnership adopted the following governance structure for the SLEDS system:
The SLEDS Governance Committee will oversee all work with the data system.
The SLEDS Research Committee will review and develop research and evaluation proposals and make recommendations to the Governance Committee.
The SLEDS Data Advisory Committee will review and evaluate proposals through the lens of technical expertise on data structure and linkages, and make recommendations to the Governance Committee.
The SLEDS System Coordinators and SLEDS IT Staff will coordinate work with the three committees and the State Data Center, and report to the Governance Committee on the research, evaluation and technical operations of the data system.
Current SLEDS Committee Membership List
Status:
Documents:
Sample P-20 Research and Resources:
Washington
The Education Research & Data Center (ERDC) in the Washington State Office of Financial Management conducts analyses of early learning, K-12, and higher education programs and education issues across the P-20 system. ERDC has compiled a list of critical questions and a compendium of key education indicators for focus in P-20 system development.
Florida
The Florida Division of Accountability, Research and Measurement provides education information to inform policy and support high standards that will continually improve student achievement and opportunities throughout Florida's PK-20 education system.
The Florida Education & Training Placement Information Program (FETPIP) is a data collection and consumer reporting system established by Florida Statutes Section 1008.39 to provide follow-up data on former students and program participants who have graduated, exited or completed a public education or training program within the State of Florida.
Iowa
Visualizing Transitions from Education to Industries. A common question is whether college graduates are employed in sectors related to their major. This document shows the transitions from community college "career clusters" to one of the 20 industrial sectors. Calculating Returns to Degree Using Administrative Data. Does a college degree provide economic returns to the individual? "Measuring Transitions into the Workforce as a Form of Accountability." 2011. IR Applications No. 32 November.
Illinois
The Illinois 2002 cohort study represents a vision of the results that would be available in the future with the development of the State's longitudinal system. In this report the Illinois Education Research Council provides a focused analysis of initial college enrollment and the attainment of intended outcomes for those enrolling at two-year and four-year institutions, specific pathways and completion patterns and participation and completion outcomes by student characteristics, characteristics of high schools and postsecondary institutions.
News Articles:
Idea Whose Time Has Come?
Inside Higher Ed, May 13, 2013
New proposal renews the call for a federal "unit record" database -- a database administered by the Education Department that could track students through college and into the work force.
Transparency Consensus
Inside Higher Ed, February 12, 2013
A proposal to collect and disseminate data on college graduate's salaries has bi-partisan support. Longitudinal Data Systems may be able to fill that request.
Report Emphasizes Creating Culture of Better Data Use in Schools
Education Week, November 15, 2012
While data systems have become more robust, the next challenge is creating a culture that encourages intelligent use of data in schools.
New Rules Would Allow for Broader Sharing of Student Records
Chronicle of Higher Education, April 8, 2011
Education reformers welcome the change, but privacy advocates fear it could undermine longstanding protections of student data.
Related Pages
Related Links