Home > About Us > Initiatives > Minnesota P-20 Statewide Longitudinal Educational Data System
Minnesota P-20 Statewide Longitudinal Educational Data System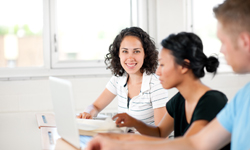 Contacts:
Meredith Fergus, Office of Higher Education, 651-259-3963
Alexandra Djurovich, Office of Higher Education, 651-259-3962
Overview: Minnesota is developing a statewide longitudinal data system that will allow for the matching of student data from pre-kindergarten through completion of postsecondary education. The creation of this longitudinal data system is occurring through the collaborative work of several state agencies including: the Minnesota Office of Higher Education, the Minnesota Department of Education, the Minnesota Office of Enterprise Technology and the Minnesota Department of Employment and Economic Development. State governments across the country are at various stages of creating longitudinal data systems to facilitate data-driven decision making. The federal government made implementing such systems a requirement for receiving fiscal stabilization funds in 2009.
Background:: The Minnesota Department of Education has long maintained limited student information on K-12 public school students. The Minnesota Office of Higher Education collects and maintains enrollment data for postsecondary institutions across the state. This initiative simply represents work to build the state's capacity to link the two data sets when appropriate and in compliance with all privacy laws, to generate meaningful longitudinal analysis.
Purpose: The Minnesota Statewide Longitudinal Education Data System (SLEDS) project will bring together data from education and workforce to:
Identify the most viable pathways for individuals in achieving successful outcomes in education and work;
Inform decisions to support and improve education and workforce policy and practice, and
Assist in creating a more seamless education and workforce system for all Minnesotans.
The intention is to link data on students who graduate from a Minnesota public high school and attend a Minnesota postsecondary institution at the undergraduate level. No personally-identifiable data will be public, in compliance with all state and federal laws. The data and analysis made accessible through this system will help educators and policymakers answer a range of program and policy questions to gauge the effectiveness of programs and design targeted improvement strategies.
Governance: The state's P-20 Partnership is the governing body for the system. It will be jointly managed by the Minnesota Office of Higher Education and the Minnesota Department of Education through a coordinator at each department. The P-20 Partnership will name a research committee and a data advisory committee to address process and data management issues.
Status:
Meetings
FastTRAC, Data Sharing Team: ongoing
Minnesota Department of Education, Adult Basic Education: ongoing
Postsecondary institutional representatives: ongoing
College-and Career-Ready Policy Institute, Data Work Group 5: November 6, 2009; September 25, 2009. One of five subcommittees of the Institute was assigned the job of developing policy recommendations for developing statewide data systems for review by a statewide leadership team and national partners. This document lists the recommendations for developing a P-20 data system in Minnesota and the committee members.
Governor's Workforce Development Council, Resource Alignment Committee: November 2, 2009
Minnesota Economic Resource Group: January 20, 2010
Upper Midwest Association of Collegiate Registrars and Admissions Officers (UMACRAO): November 5, 2010
Association of Institutional Research of the Upper Midwest (AIRUM): October 30, 2011 presentation
State Longitudinal Data Systems (SLDS) Best Practices Conference: November 13-15, 2011
Documents
News Articles
New Rules Would Allow for Broader Sharing of Student Records
Chronicle of Higher Education, April 8, 2011
Education reformers welcome the change, but privacy advocates fear it could undermine longstanding protections of student data.
The Information (Sharing) Age
Inside Higher Ed, April 7, 2011
Education Department plans change in key federal privacy act to let state agencies share student data more freely -- alarming privacy advocates
Obama Tries New Tack to Collect Student Data [ .pdf ]
The Chronicle of Higher Education, March 8, 2010
Clash Over Student Privacy
Inside Higher Ed, February 1, 2010
Researchers Seek Redesign of Government's Education-Data Systems [ .pdf ]
The Chronicle of Higher Education March 27, 2008
Related Pages
Related Links