Home > Research, Data & Reports > Financial Aid Data & Trends > Financial Aid at a Glance > FAFSA Data
FAFSA Data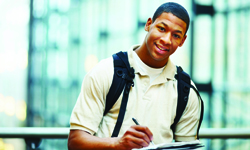 The Free Application for Federal Student Aid (FAFSA)
One of the barriers to accessing higher education is financing the rising costs of tuition and student fees, yet many college students do not apply for financial aid by completing the Free Application for Federal Student Aid (FAFSA) each year. The federal government and the State of Minnesota require students to complete the FAFSA to qualify for governmental financial aid, and many institutions also require the FAFSA to qualify for institutional aid.
FAFSA Filing Rates for Minnesota Students
Minnesota students apply for financial aid (grants and loans) using the FAFSA at higher levels than students nationally. Survey data from the U.S. Department of Education estimated that 70 percent of all Minnesota undergraduates applied for federal financial aid compared to 59 percent nationally in 2007-08. Students at private institutions have the highest FAFSA filing rates in Minnesota with 93 percent of private for-profit students and 83 percent of private not-for-profit students filing. Students do not complete the FAFSA for a variety of reasons, yet the students most likely to not complete the FAFSA tend to be older, attend college part-time, and attend public institutions.
FAFSA Filing Rates for High School Seniors (page 15)
"FAFSA Filing Rates for First-Year Students" Minnesota Measures 2011 (pages 20-23)
Increasing Student Awareness of the FAFSA
A report to the Legislature on the policies and procedures adopted by postsecondary institutions to increase student awareness of the need to complete a FAFSA application. (release date: March 2011)
FAFSA Completion Project
In 2010, the U. S. Department of Education (the Department) implemented a FAFSA Completion Project designed to assist local educational agencies (LEAs) and secondary school administrators in determining which of their students have completed a Free Application for Federal Student Aid (FAFSA) for the upcoming school year. FAFSA completion information provided under the FAFSA Completion Project can be helpful to LEAs and secondary schools in implementing targeted outreach efforts to assist their high school seniors and their families who have not yet submitted a FAFSA, or who submitted a FAFSA that may be incomplete. As you know, completing the FAFSA can be a critical component of access to postsecondary education.
Minnesota high schools are encouraged to apply for participation in the FAFSA Completion Project, administered by the U.S. Department of Education. Participating school districts will have access to FAFSA completion data.
MN schools invited to apply for FAFSA Completion Project
FAFSA Data by High School
The U.S. Department of Education, Federal Student Aid Data Centers provides statistics on the number of FAFSAs completed by the student's state of legal residence, prospective college of enrollment, and high school of enrollment. The Minnesota Office of Higher Education has compiled a report calculating FAFSA completion rates using the FAFSA data and high school enrollment data from the Minnesota Department of Education for public and private high schools.
2013-2014 aid year
November 1, 2013
2012-2013 aid year
March 19, 2012 (aggregate data only)
Please Note:
Related Pages
Related Links