Home > About Us > Initiatives > Higher Education Financial Literacy Week
Higher Education Financial Literacy Week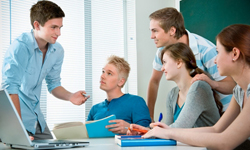 April 9-13, 2012
On Monday, April 2nd, Governor Mark Dayton declared April, 2012, as Financial Literacy Month in Minnesota. Through the collaboration of the newly formed Interagency Work Group on Financial Literacy, close to 40 outreach events are planned across the state over the next four weeks.
As part of the month-long financial literacy effort, April 9 - 13 has been designated as "Higher Education Financial Literacy Week." Events have been planned throughout the week to address key issues regarding paying for college.
Schedule of Events
Monday, April 9th
Higher Education Round Table discussion at the University of Minnesota
Students from Minnesota colleges will sit down with Governor Mark Dayton, Senator Al Franken, Dr. Eric Kaler, President of the University of Minnesota, and Larry Pogemiller, Director of the Minnesota Office of Higher Education to discuss the challenges and issues concerning paying for college.
---
Tuesday, April 10th
Director Larry Pogemiller will appear on KARE 11 Morning Show with Kim Insley at 6:20 a.m. to talk about financial literacy for college students
KARE 11 call-in show at 4:00, 5:00 and 6:00 p.m.
Higher education financial aid experts will be available to answer questions for students and families, including resources available to help them pay for college and strategies to lower the cost of higher education.
Minnesota college students will share their stories during the call-in shows on how they have met the challenge of paying for college without incurring significant debt.
---
Thursday, April 12th
Director Larry Pogemiller and local legislators will visit two college campuses to discuss financial literacy issues with students
10:00 a.m. Winona State University
2:00 p.m. Riverland Community College, Austin
Get Ready staff are taking Minneapolis families who have children in 5th-12th grade to Minneapolis Community and Technical College for a parent college field trip
One segment of the tour will be on financial literacy
---
Several recipients of Federal College Access Challenge Grants, which seek to increase the number of low-income students who are prepared to enter and succeed in postsecondary education, have planned the following events for Financial Literacy Week:
Monday:
Hmong American Partnership
Topic: Check it out: how to use a checking account
Tuesday:
Minneapolis Urban League
Topic: Financial literacy discussion with 30 participants
College Possible
Topic: applying for student aid, payment options and avoiding default
Wednesday:
Women's Initiative for Self-Empowerment
Topic: Good debt/bad debt: Using Credit Wisely
Thursday:
MN African Women's Association
Topic: Planning for College Payments: Being a Smart Consumer
More Information