Home > Outreach > Get Ready Program Overview
Get Ready Program Overview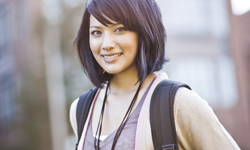 The Get Ready program is an early intervention and college awareness program targeted primarily at low-income students and their families and those underrepresented in postsecondary education.
Get Ready is funded primarily by the U.S. Department of Education through a federal GEAR UP grant (Gaining Early Awareness and Readiness for Undergraduate Programs). The Program is administered by the Minnesota Office of Higher Education.
The federal GEAR UP program has two primary objectives: 1) student graduation from high school, and 2) student transition into college upon high school graduation. (Note: "college" includes all types of postsecondary institutions).
In its third grant cycle, the Get Ready program serves fifth through twelfth grade students. The program focuses on understanding the importance of goal setting, college planning information, information about careers and the various types of postsecondary institutions available to achieve different types of career goals, and the various ways to cover the costs of a postsecondary education, and the importance of making good choices when choosing classes in middle school and high school to be prepared to enter and succeed in a post-secondary institution. Academic tutoring and academic advising are provided for direct service students.
Get Ready has two core program delivery components:
Both are offered at no cost to eligible participating schools and organizations.