Home > Outreach > Get Ready Program Overview
Get Ready Program Overview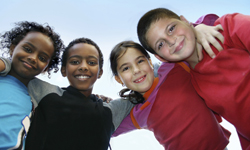 The Get Ready program is an early intervention and college awareness program targeted primarily at low-income students and their families and those underrepresented in post-secondary education.
Get Ready is funded primarily by the U.S. Department of Education through a federal GEAR UP grant (Gaining Early Awareness and Readiness for Undergraduate Programs). The Program is administered by the Minnesota Office of Higher Education.
The federal GEAR UP program has two primary objectives: 1) student graduation from high school, and 2) student transition into college upon high school graduation. (Note: "college" includes all types of post-secondary institutions).
Beginning in Fall 2011, in its third grant cycle, the Get Ready program serves fifth through twelfth grade students. The program focuses on understanding the importance of goal setting, college planning information, information about careers and the various types of post-secondary institutions available to achieve different types of career goals, and the various ways to cover the costs of a post-secondary education, and the importance of making good choices when choosing classes in middle school and high school to be prepared to enter and succeed in a post-secondary institution. Academic tutoring and academic advising are provided for direct service students.
Get Ready has two core program delivery components. Both are offered at no cost to eligible participating schools and organizations, including all curriculum materials.
Direct Service
This component provides tutoring and pre-college activities led by Get Ready staff to 5th through 12th grade students at nine pre-selected, Title 1 elementary, middle and high schools in Brooklyn Center, Minneapolis and St. Paul.
Key components include:
Curriculum materials covering topics such as goal setting, planning skills, career choices, higher education options, and financing higher education
Tutoring: primarily in the areas of math and reading/language arts
Academic Advising: in middle and high school to help keep students on track
Career exploration opportunities
Field trips to post-secondary institutions
Career and college-focused seminars
Summer academic camps: provide scholarship packages for students to attend summer academic enrichment camps
Parent materials, events and workshops
Teacher professional development (when funding allows)
2011-2012 Get Ready Direct Service Schools
Minneapolis
St. Paul
Brooklyn Center
Andersen United Community School
Hmong International Academy
Olson Middle School
Patrick Henry High School
Roosevelt High School
Farnsworth Aerospace Magnet
Johnson Senior High School
Washington Technology Secondary School
Brooklyn Center Secondary
Outreach Minnesota
This component provides the Get Ready curriculum and some pre-college activities (such as college visits) to non-direct service schools and organizations in which more than half of the students receive free or reduced-price lunch. Other factors, such as geographic location and diversity, are also taken into consideration.
Typical components include:
Get Ready curriculum materials
Teacher Get Ready curriculum guides/lesson plans
Age appropriate presentations for students and their parents on topics related to college planning
Assistance with bus transportation cost for students to go on a college campus visit in the school's/organization's geographic area
Parent materials related to helping their students plan and prepare for college
Some possible financial assistance with teacher professional development workshops for classroom teachers actively using the Get Ready curriculum