Home > Research, Data & Reports > College Readiness & Participation Data > High School Student College Prep
High School Student College Prep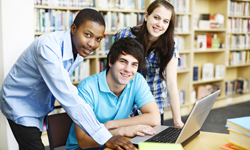 Minnesota high school students have opportunities to prepare for college by challenging themselves with college-level courses in high school. Students may:
Enroll in the College Board's Advanced Placement courses either at their local high school or online.
Enroll in classes at local colleges through the Minnesota Postsecondary Enrollment Options (PSEO) program.
Enroll in "college in the schools" or other dual enrollment classes at their high school. These classes are part of the PSEO alternative to attending a college.
Enroll in the International Baccalaureate curriculum at participating high schools.
Approximately 20 percent of Minnesota high school seniors earn college credits by the time they graduate from high school, according to a report on the Postsecondary Enrollment Options Program prepared by the Office of Internal Auditing at the Minnesota State Colleges and Universities.
More Information