Home > Preparing for College > October is College Knowledge Month > College Knowledge Month for Site Coordinators / Schools
College Knowledge Month for Site Coordinators / Schools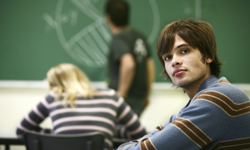 At the very minimum, schools interested in participating must devote time and space during the school day for college exploration activities - including support for seniors to complete college applications. College access programs that work within schools or districts can host CKM events and serve students within their pre-existing program structure. These programs include but are not limited to College Possible, TRIO programs, Get Ready, AVID, etc.
Assistance and encouragement for students and their families will be provided by high school and/or college access staff and volunteers from colleges and the community. The College Knowledge Month steering committee will provide resources, materials, support and training for registered sites to assist with their programming.
Need more information? Access the College Knowledge Month Overview (Prezi).
Register your site or program for 2016 College Knowledge Month
Site Coordinator Support and Training
October Planning Calendar - 2016 version coming soon!


Site Coordinator Resource Guide - Updated in 2014, this guide is meant to be a primary resource to you as you plan, promote and implement your College Knowledge Month activities.



Volunteer Access - Available August 1
Sites that register by the preferred deadline of June 15 and request assistance recruiting volunteers during registration will receive access to this list of volunteers. Volunteers are organized by region and are available on a first-come, first-served basis.



Training Sessions, Presentations and Webinar Access CKM training for new and returning site coordinators. There are several options to choose from, including face-to-face sessions and online/remote opportunities.


Site Coordinator Dropbox - Access and share tools from other Minnesota site coordinators. Download and view Spring & Fall training documents and presentations.


Shaping Your Future Video Collection - Use these videos during October to kick-off your CKM events or motivate students to think about their plans for the future.


2016-17 Free Application Opportunities
A list of which MN schools do not charge an application fee during College Knowledge Month - and which schools accept the NACAC fee waiver for qualified students at any time of the year.
Toolkit Items
This is a list of downloadable/customizable tools and links from the Site Coordinator Resource Guide.
Planning Your Events
Recruiting and Organizing Volunteers
Promoting the Month
Working with Students
Additional Info
Please Note:
More Information