Home > Preparing for College > October is College Knowledge Month > College Knowledge Month for Volunteers
College Knowledge Month for Volunteers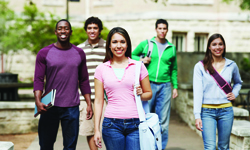 Volunteers from colleges and the community will be a critical ingredient to the success of College Knowledge Month. Volunteers can lend their individual expertise at any of the registered sites and are needed in a variety of ways, depending on the needs of the high school. Examples include: greet and sign-in students, assist students with the completion of college applications, speak to student or parent groups, share information about the college application process, share personal stories about your college journey, share about your area of expertise (financial aid, diversity, college preparation, essay writing, etc.). Training sessions for the school sites will emphasize the importance of effectively utilizing and communicating with volunteers.
2013 Volunteer Registration is closed. Please join us next year!
2013 volunteers, please complete this evaluation.
Resources