Home > Preparing for College > October is College Knowledge Month > College Knowledge Month for Volunteers
College Knowledge Month for Volunteers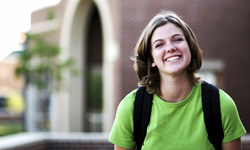 Volunteers from colleges and the community will be a critical ingredient to the success of College Knowledge Month. Volunteers can lend their individual expertise at any of the registered sites and are needed in a variety of ways, depending on the needs of the high school. Examples include:
greet and sign-in students
assist students with the completion of college applications
speak to student or parent groups
share information about the college application process
share personal stories about your career or college journey
share about your area of expertise (financial aid, diversity, college preparation, essay writing, etc.).
Training sessions for the school sites will emphasize the importance of effectively utilizing and communicating with volunteers. Site coordinators are encouraged to contact you on a first-come, first-serve basis to confirm your availability and schedule you for their event(s). For this reason, registering to volunteer does not guarantee that you will end up volunteering at a specific site, or at all. We appreciate your time and willingness to contribute to Minnesota College Knowledge Month.
Register to Volunteer for College Knowledge Month!
Resources