Home > Paying for College > About Financial Aid > Sources and Types of Financial Aid > Aid From State Sources
Aid From State Sources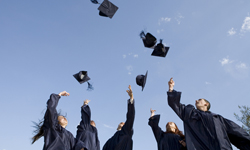 The state of Minnesota devotes most of its financial aid to students from low- and moderate-income families. In Fiscal Year 2013, Minnesota students received almost $164 million in state need-based aid:
The state subsidizes a number of work study programs at schools around the state. In 2013, about 10,633 students earned $20.2 million in state work study jobs (includes 25 percent employer share of earnings).
Minnesota also operates a state loan program, the Student Educational Loan Fund (SELF), for students and families who have exhausted or do not qualify for need-based aid. In Fiscal Year 2012, 14,100 Minnesota students borrowed approximately $85.4 million in SELF Loans.
In 2011, financial aid totaling $3.4 billion helped Minnesota students and families pay for postsecondary education. The money was provided by the state and federal governments, colleges, and private sources. Minnesota students received $1.5 billion in grants or scholarships, $1.7 billion in student loans, $161 million in parent loans, and $46 million through work study earnings.