Home > Paying for College > About Financial Aid > Sources and Types of Financial Aid > Aid From Federal Sources
Aid From Federal Sources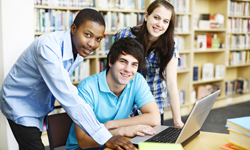 The federal government generally awards financial aid grants to students from low- and moderate-income families. The largest federal grant program is the Federal Pell Grant Program. This program provided $513 million to 153,300 undergraduates attending Minnesota schools of higher education in 2010-11.
The government also offers loans to help students pay for their higher education. These programs allow students to pay part of the price of their education with future income. The largest of the federal loan programs is the Federal Direct Stafford Program.
The federal government also subsidizes work study jobs at various colleges and universities. About 15,000 students at Minnesota schools earned $26.2 million in federal work study jobs in 2010-11.