Home > Preparing for College > Prepare at School > Other Ways to Prepare
Other Ways to Prepare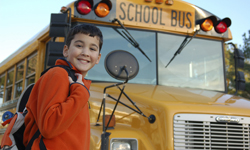 Whether you're preparing for college or a career, consider exploring some of the following non-academic activities. But remember, your school work should continue to come first.
Participate in extracurricular activities. After-school activities--athletics, yearbook, newspaper, clubs, theater--help you learn teamwork and leadership skills, how to work with people, get things done and learn what your interests are...in addition to being fun!
Get involved in activities at school or in your community. When you get involved, you meet mentors who can help you throughout your life, gain skills that last a lifetime and make a difference in the world around you. Visit Volunteer Match or Youth Service America to find opportunities near you.
Join AmeriCorps, a national volunteer program similar to the PeaceCorps where volunteers work in projects to meet a variety of community needs. Members receive education awards at the end of their service. These awards can be used to pay for college or to pay back students loans. Minnesota opportunities are listed online at www.ServeMinnesota.org.
A job can give you a sense of purpose, new skills, a line on a resume, help you learn responsibility and money to help pay for college.
School-To-Work allows you to learn both inside and outside the classroom. The program has three components:
School-based learning provides you with the opportunity for career exploration and instruction in both academic and technical skills, and helps you identify employment and educational goals.

Work-based learning provides you with mentorships, internships, apprenticeship and job shadowing opportunities.

Service-based learning provides an opportunity for you to learn through community service activities and volunteerism.
Tech Prep is a federal program that partners with businesses, labor organizations and higher education institutions to use work-based learning to prepare high school juniors and seniors for technical careers.
Apprenticeships and internships allow you to explore career roles and gain valuable work experience. Positions may be paid or unpaid and require varying amounts of commitment.
Job shadowing allows you to experience what a particular career is really like by going to work with an adult. You spend part or all of that day at work "shadowing" the adult. Visit www.jobshadow.org for more information.
Service in the Armed Forces (Army, Navy, Air Force, Marines Corps and Coast Guard) provides hands-on training and experience, opportunities for travel and self-discovery, and teamwork, responsibility, and leadership skills. Each branch has programs to help you pay for college.
Related Links