Home > About Us > Job Openings
Job Openings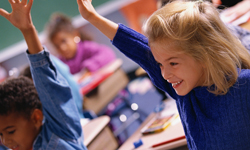 Education Liaison
The Minnesota Office of Higher Education is seeking an Education Liaison (EL) for its Get Ready early college awareness program. Funded primarily by a federal Gaining Early Awareness and Readiness for Undergraduate Programs (GEAR UP) grant, this full-time position is contingent upon continued federal funding.
A Get Ready Education Liaison will provide the following direct services to students in one of nine St. Paul, Minneapolis, and Brooklyn Center elementary and middle schools:
develop and present Get Ready curricula in school classrooms
advise students to increase resiliency and motivation
mentor students
organize family involvement events/presentations
accompany students on post-secondary campus field trips
provide career awareness opportunities
engage parents in the college awareness process
provide other program services to encourage students to pursue a post-secondary education after high school
Education Liaisons develop and implement student programming during the summer months.
Minimum Qualifications: Baccalaureate degree in a relevant field of study, 2 years of classroom experience delivering lessons/presentations, demonstrated experience relating to diverse populations, knowledge of academic support and career assessment techniques, experience developing and presenting curriculum, knowledge of higher education issues, strong communication skills, ability to work alone and in teams, a positive attitude, and self-motivated with excellent organizational skills. Knowledge of effective student advising/mentoring techniques and development experience with children ages 11-15. Experience working with low-income and underserved youth is preferable. Spanish fluency is a plus. Education Liaisons must be available to work weekend and evening hours periodically, and must be willing to transport students in agency vans. Individuals holding a MN teaching license are preferred. Minorities and those with fluent bilingual skills are encouraged to apply.
Applicant finalists will be required to provide 3 professional references who can speak to the individual's professional qualifications for this position, and provide written documentation of his/her educational degree(s). A successful candidate must pass an authorized background check.
Salary: starting annual salary of $39,526 per year / $18.93 per hour plus an excellent benefits package
How to Apply: This unclassified vacancy is open to all qualified job seekers. If you are interested in being considered for this position, please submit your resume for this job using the online Resume Builder. You may copy and paste your existing resume or let the software create a resume for you. After you've completed your online resume, apply directly to this job posting (14MOHE000007) by checking the "Apply for This Job" box and then click the "Apply to Selected Jobs" box at the bottom of the posting. In addition to your resume, you will also need to provide a cover letter explaining the reasons you are interested in the position and why you feel your background and experience is relevant to the responsibilities of this position.
More Information About This Job
Please note: You must use the state on-line Resume Builder to submit your resume. Additional information can be submitted directly to:
Contact: Lynne Richárd, Human Resources
Fax: 651.642.0675
lynne.richard@state.mn.us
Or write to:
Minnesota Office of Higher Education
1450 Energy Park Drive, Suite 350
St. Paul, MN 55108-5227
If you fail to submit the required documents as specified above, your application will not be considered.
Application deadline: To qualify for consideration, applications must be received by August 28, 2014. Review of applications will begin immediately upon receipt and anticipated start date is mid-September.
See more information about the State's selection process.
AFFIRMATIVE ACTION/EQUAL OPPORTUNITY EMPLOYER
More Information