Home > High School & Campus Resources > Campus Student Enrollment Reporting Resources
Campus Student Enrollment Reporting Resources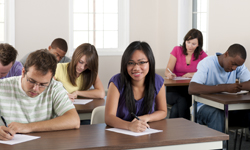 Specifications for reporting data for the Student Enrollment Record Data Base and Degrees and Other Awards Conferred Data Base
This Manual contains specifications for reporting data to the Office of Higher Education for the state's two student databases, Student Enrollment Record Database (SERDB), and Degrees and Other Awards Conferred maintained by the Office of Higher Education's Research and Program Services division.
The SERDB, established in 1983, contains data on students enrolled in Minnesota private and public postsecondary institutions. The Degrees and Other Awards Conferred Database contains data on degrees and other formal awards (diplomas or certificates) conferred to students upon successful completion of a program of study.
Proposed changes to enrollment and awards conferred collection
Recommended Proposed Changes June 21, 2016
Feedback requested: Please submit in writing recommended changes to either document by end of day Thursday July 7th. Comments can be sent to Meredith Fergus and/or Alexandra Djurovich.
In addition, OHE will be hosting an in-person/online meeting on Wednesday, July 20th 1:00pm-2:00pm to discuss implementation of the changes and to answer any questions you may have about the data sharing agreement. Watch for an invitation forthcoming later this month.
Meeting Handouts March 2, 2016
Meeting Handouts February 10, 2016
Meeting Handouts January 13, 2016
Meeting Handouts December 16, 2015
Student Databases Manual
Spreadsheet Template
If you wish to submit data on a spreadsheet, you may develop your own template or download this Microsoft Excel spreadsheet template.
The spreadsheet template contains five tabs:
a sample of an enrollment record
instructions for enrollment record layout
quick guide to codes
a sample of a degree conferred record
instructions for degrees and other awards conferred layout
Search for CIP
The Classification of Instructional Programs (CIP) Edition 2010 is searchable on the Web here. Or available in print [.pdf].
You will need the CIP to report student's fields of study and program completions for the enrollment and degrees conferred database.
CIP was originally developed by the U.S. Department of Education's National Center for Education Statistics (NCES) in 1980, with revisions occurring in 1985, 1990, 2000 and 2010. The Office of Higher Education uses the CIP as it is the national taxonomic standard on academic program titles.
Please Note: