Home > Choosing a College > College Search > Explore Higher Education Options in Minnesota
Explore Higher Education Options in Minnesota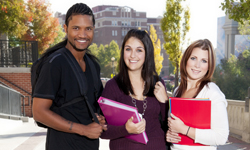 From urban to rural, big to small, public to private, Minnesota's postsecondary schools offer you a variety of choices after high school:
Or begin your search with the CAREERwise Education college search, a collaborative effort by several state agencies and Minnesota higher education systems.
Watch informational video on Minnesota's college options. (18 minutes; requires QuickTime, Download PDF transcript) Or watch segments on our YouTube Channel.
How are these colleges different? Consider the following:
Different Types of Colleges

| Type of College | Number of years | Career Examples |
| --- | --- | --- |
| Technical and Career Colleges | three months to two years | florist, medical assistant, automotive technician, electrician and paramedic |
| Community and Tribal Colleges | two years; transfer to a four-year school | nurse, legal assistant, accountant, drafting, radiologist and computer careers |
| Four-year Colleges and Universities | four or more years | teacher, scientist, writer, social worker, graphic artist and engineer |
More Information
Related Pages
Related Links