Home > Preparing for College > Succeed as an Adult Student > Full-Time vs. Part-Time Enrollment
Full-Time vs. Part-Time Enrollment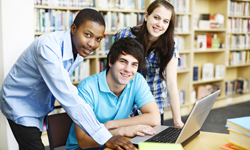 Information on the differences.
In many cases, you can start or return to school as either a full- or part-time student. If this is the first time you're attending college or you've been away from school for years, you may want to start with one course.
State and federal financial aid is available to part-time as well as full-time students. Child care assistance may also be available.
Job and family obligations may dictate how much time you can devote to school. Finding time to attend school and study, even on a part-time basis, may make a big change to your current routine. However, going to school full-time and entering the job market as quickly as possible may be worth the financial inconvenience of altering or quitting your current job. Decide what's best for you and plan accordingly.
Academic and financial aid counselors can help you explore your options. You can contact the financial aid or admissions office at any college near you.
Related Pages