Home > Choosing a College > A Guide to Letting Go > Student Safety
Student Safety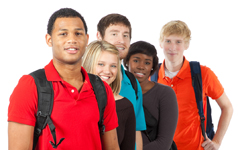 Crime is a fact of life at colleges and universities around the United States. That should come as no surprise considering that 18 to 25 year-olds commit more crimes in our country than any other age group.
Parents and students shouldn't hesitate to question the school's crime statistics. This information as well as the following tips can help keep your child from becoming a victim:
Your child should always travel in groups or use a campus escort service after dark or early in the morning. He or she should never take short-cuts, jog or walk alone at night.

Encourage your child to share his or her class schedule and phone list with you and other friends.

Help your child study the area around the campus and the college neighborhood. Identify potentially dangerous areas and where the campus emergency phones are located.

First-year students should decline having any photos or personal information published for distribution around the campus. This type of publication has been used to target freshmen.

Check out the social scene by driving through the "fraternity row" on a Friday or Saturday night. Stroll through other places where students gather. How are the students behaving? Are they abusing alcohol or drugs? The less contact your student has with alcohol and drugs and the people who abuse them, the safer he or she will be.
Tips for Students Living in Dorm Rooms:
Dormitories should use "key cards" rather than the standard metal lock and key system. This makes it much easier to make a lock change when a key card is lost or a roommate moves out.

All dorms should have good window and door locks. Entry doors should have "peep holes". Remind your child that he or she should always lock doors and windows at night.

At night, dormitories should lock all outside doors. There should be a central lobby or common entrance where access is closely monitored. It should have an outside telephone that requires visitors to call a resident for access.

Dormitories should have security patrols to check for doors that are not completely closed or have been propped open.

Remind your child not to leave valuables such as wallets, laptops or ATM cards in plain sight.

Help your child to program his or her telephone with emergency phone numbers including police, fire, family and friends.

Encourage your child to get to know his or her neighbors, and not to be shy about reporting strangers who are loitering and/or engaged in illegal activities.
Related Links