Home > Research, Data & Reports > College Readiness & Participation Data > ACT & SAT Test Scores
ACT & SAT Test Scores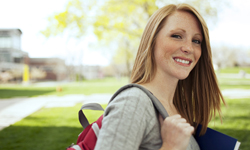 ACT scores of Minnesota high school test takers
In Minnesota, the most commonly taken standardized college entrance exam is the ACT. An estimated 74 percent of Minnesota's high school graduating class in 2013 took the assessment. From 2009-2013, the number of ACT test-taking graduates has increased by 2.4 percent, while the number of graduates in Minnesota has decreased by 5.8 percent, according to ACT estimates.
Minnesota's average composite score of 23.0 was the highest in the nation among the 28 states in which more than half the college-bound students took the test in 2013. Minnesota has led the nation in average composite ACT scores for eight consecutive years. The national composite score was 20.9.
The underlying data correlating student preparation and characteristics to test scores indicate that:
Students who take rigorous high school courses consistently perform better on the ACT.
Minnesota students are not as ready as they could be for college level work, especially in mathematics and science.
College Readiness
College preparatory classes taken in high school are positively correlated with high ACT test scores.
Reports released by ACT emphasize the need for students to take a specific sequence of courses in secondary school to be ready for college and work beyond high school. For over 20 years ACT has recommended that high school students take a certain number of courses in high school to be ready for college. ACT stresses the need for high school students to take challenging courses. Additional research found that "the level of academic achievement that students attain by 8th grade has a larger impact on their college and career readiness by the time they graduate high school than anything that happens academically in high school."
ACT has identified the courses listed below as contributing most to college readiness and considers them the minimum college preparatory curriculum. New Minnesota high school graduation standards implemented for students graduating in 2010, with additional requirements for those graduating in 2015, will be in alignment with the ACT recommended core curriculum:
Four years of English
Algebra 1, algebra 2 and geometry
Biology, chemistry and physics
In addition, ACT found that taking a course such as speech, in addition to English in grades nine through 12, improved students college readiness. Foreign language courses also improved student's English language readiness. One (or more) mathematics course such as trigonometry, pre-calculus, or calculus in high school boosted college-readiness in mathematics.
Since 2007 the number of test-takers taking the minimum core or more courses in high school has increased from 54 percent of test-takers to 87 percent. Even so, only 39 percent of Minnesota students were considered college-ready in all four subjects areas tested (English, mathematics, science and social science) as determined by their test scores compared to 26 percent nationally.
Minnesota's Condition of College & Career Readiness 2013 Report
ACT Mean Composite Scores in Minnesota and Nationally for the School Years Ending 2004 to 2013
About the Test
Seventy-four percent of Minnesota high school graduates in 2013 took the assessment. The number of Minnesota test takers increased from 43,642 in 2009 to 44,676 in 2013. Some students took the test in their junior year, some took it during their senior year, and some took it in both years or twice in one academic year. For students who took the test multiple times, only the most recent score was included in this analysis.
The ACT test comprises four subject areas: English, reading, mathematics, science and an optional writing test. The ACT assessment helps colleges determine how well students are prepared for college. Colleges use the ACT scores for student admissions, advising, and placement. Minnesota's state universities generally require a composite score of 21 or higher for admission. The highest possible ACT score is 36. In 2013, 55 Minnesota students achieved a perfect composite score; meaning they scored a 36 in all four subject areas.
A perfect score was achieved in the following subject tests by Minnesota test takers:
275 in English
218 in Mathematics
635 in Reading
326 in Science
The ACT assessment reveals helpful information for over 70 percent of aspiring college students in Minnesota high schools who took the test. It reveals nothing about the 30 percent of high school graduates who never took the test. Nine states, Colorado, Illinois, Kentucky, Louisiana, Michigan, Mississippi, North Dakota, Tennessee and Wyoming require all of their high school seniors to take the assessment.
The ACT results are more representative of Minnesota than the SAT. Only about 10 percent of Minnesota college bound seniors take the SAT, compared to 46 percent nationally. Minnesota students taking the SAT are typically applying to selective out-of-state colleges.
The Minnesota Office of Higher Education reports state-level ACT test data. ACT test-taker scores at individual Minnesota high schools are available from the Minnesota Department of Education.
More Information
Related Links