Home > Research, Data & Reports > Financial Aid Data & Trends > Loans, Debt & Net Price > Federal Loan Default Rates
Federal Loan Default Rates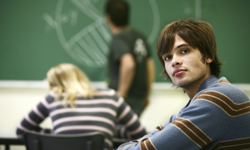 The Minnesota Office of Higher Education monitors debt trends and evaluates state financial aid policies. In Fiscal Year 2013, Minnesota undergraduates received $1.5 billion from federal student loan programs.
Default Rate Comparisons
Undergraduates attending Minnesota's colleges were less likely to default on federal student loans than their peers nationally, according to information published by the U.S. Department of Education. But Minnesota undergraduates were more likely to borrow than students in other states.
At 9.8 percent, Minnesota's 3-year default rate ranked 37th compared to other states. New Mexico (20 percent) had the highest rate and Massachusetts (6.4 percent) had the lowest rate. Nationally, the Fiscal Year 2012 default rate was 11.8 percent, which decreased from the 2011 rate of 13.7 percent.
The 3-year default rate of Minnesota borrowers decreased from 12 percent in Fiscal Year 2011 to 9.8 percent in Fiscal Year 2012. The number of students defaulting also decreased from 17,888 to 15,744.
Fiscal Year 2012 default rates varied among Minnesota institutions from 34 to 1 percent.
Minnesota Students Default on Loans Less than Nation, 3-Year Default Rates, FY 2012
Source: U.S. Department of Education
3-Year Official Cohort Default Rates, Minnesota and Surrounding States, FY 2012
State
Number of Schools
Number of Borrowers in Default
Number of Borrowers Entered Repayment
Borrower Default Rate
Illinois
248
23,438
230,903
10.1%
Indiana
117
25,753
174,516
14.7%
Iowa
88
13,989
106,370
13.1%
Michigan
136
24,185
188,007
12.8%
Minnesota
109
15,744
159,221
9.8%
North Dakota
24
974
14,601
6.6%
South Dakota
25
2,321
20,221
11.4%
Wisconsin
93
8,693
93,792
9.2%
Nation
5,688
610,584
5,132,647
11.8%
Calculated August 8, 2015
Source: U.S. Department of Education, Office of Student Financial Aid Programs
About Default Rates
The U.S. Department of Education releases official cohort default rates once per year.
The Higher Education Opportunity Act of 2009 enacted by the U.S. Department of Education published regulations governing the calculation of cohort default rates. An institution's cohort default rate is calculated as the percentage of borrowers in the cohort who default before the end of the second fiscal year following the fiscal year in which the borrowers entered repayment. This extends the length of time in which a student can default from two to three years.
A 3-year cohort default rate is the percentage of a school's borrowers who enter repayment on certain Federal Family Education Loan (FFEL) Program or William D. Ford Federal Direct Loan (Direct Loan) Program loans during a particular federal fiscal year (FY), October 1 to September 30, and default or meet other specified conditions prior to the end of the second following fiscal year.
Colleges and universities with consistently high student loan default rates over a period of three years may be denied participation in federal and state financial aid programs for their students. No institutions in Minnesota have been denied participation in recent years.
More Information
Previous Student Loan Default Rate Reports
Related Reports
Please Note:
Related Pages
Related Information in Minnesota Measures
Related Links