Home > Outreach > College Planning Presentation Information
College Planning Presentation Information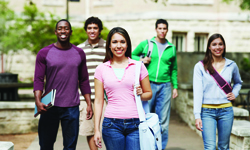 The Office of Higher Education offers free presentations throughout the state of Minnesota to educate students, families, teachers and the community about the many ways to prepare and pay for college.
Presentations are designed for students in grades four through 12 or parents who have children of any age.
These presentations help connect educators, parents, students and organizations with helpful postsecondary resources. Free publications on career awareness and how to prepare and pay for college as well as other college preparation and planning information are provided at these presentations.
Types of Presentations
Presentations typically cover one or more of the following topics, but can be tailored to meet your needs.
Benefits of higher education
Different types of colleges
7 ways to finance education
How financial aid works
How to apply for a FAFSA
Where to find scholarships
Presentations vary in length, but typically range between 40 and 90 minutes.
Where Are Presentations Held?
We will come to you. Presentations have been held at elementary schools, middle schools, high schools, churches, community organizations and libraries.
We will also provide information at career and college fairs geared to middle and high school students.
Request a Presentation
Request a free presentation online.
More Information