Home > Paying for College > What Does College Cost?
What Does College Cost?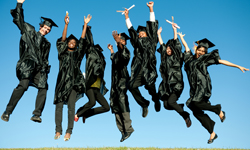 How much will it cost, anyway?
The cost of attending colleges for a full year is determined by the school's tuition and fees, room (housing) and board (meals), books and supplies, personal expenses and transportation expenses.
Put together, this is the total cost to attend the college or university for one academic year. Some students have additional expenses (such as medical care or costs arising from disabilities).
View current Minnesota tuition and fees.
While the cost of college increases each year, don't let it scare you or your parents away from your education goals. Financial aid is available to most students and their families...regardless of the type of school the student is interested in.
Most students are eligible for some type of aid. Minnesota students and families received almost $3.4 billion in financial aid during the 2010-2011 academic year. The money comes from the state of Minnesota and the federal government, colleges, and private sources.
There also are tax benefits and deductions that make what families do have to pay more manageable.
The U.S. Department of Education's net price calculator provides a preliminary estimate of federal, state and institutional aid undergraduates may receive from colleges they wish to attend, to help families gauge what they can expect to pay.
You can also use our financial aid estimator.
More Information