Reaching 70 Percent Attainment Goal
The Minnesota Office of Higher Education, with help from the National Center for Higher Education Management Systems (NCHEMS), developed different scenarios forecasting the educational outcomes needed for 70 percent of Minnesotans age 25 to 44 to attain a postsecondary degree. Each scenario focuses on different targeted approaches to meet the 70 percent attainment goal by increasing:
Graduation rates
The number of students enrolled in postsecondary programs
Persistence
Outcomes across all of the previous educational goals.
Persistence is key!
Persistence is continued student enrollment at any postsecondary institution from one semester or year to the next. The persistence scenario (shown below) predicts that if persistence increases by 5 percent for all student groups, Minnesota will reach its goal of 70 percent of students ages 25 to 44 attaining a postsecondary certificate or degree by 2025. Focusing on increasing persistence by 5 percent across all student demographics and types of colleges will result in an additional 42,144 students attaining postsecondary certificates or degrees.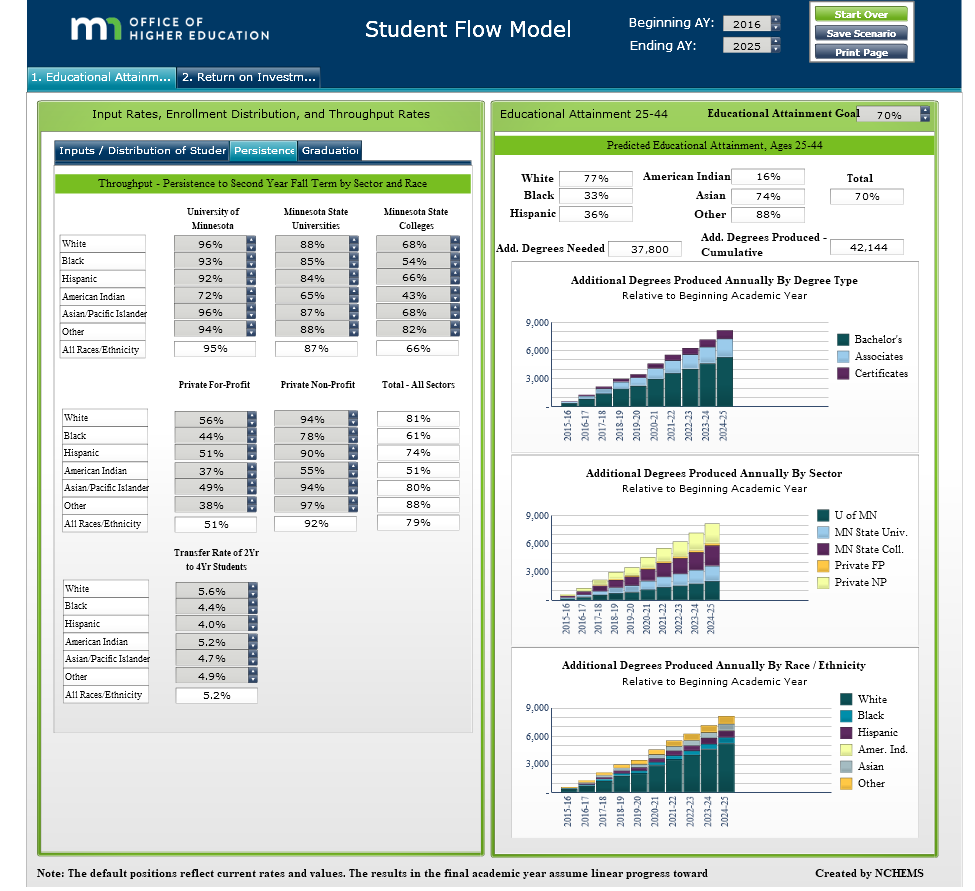 Try other scenarios using the NCHEM model by using this Link (adobe flash is needed). You can save different scenarios by using the Save Scenario button on the top right of the model. Instructions on how to use the NCHEMS models can be found here.
It is important to recognize; however, that although this focused approach on persistence will help Minnesota reach the 70 percent attainment goal, the model does not address the inequities between White students and students of color. Along with an overall focus on persistence a more direct, targeted approach will be needed to support students of color so that they can persist and graduate at higher numbers.