Big Ed
Higher Education Financial Literacy week was a great success! After our kick-off round table discussion at the University of MN on Monday, Larry Pogemiller, the director of OHE, appeared on KARE 11 with Kim Insley to talk about financial literacy and invite students and families to call in later the same day to a panel of financial aid experts for information.
KARE 11 reported that the call-in show was a good success; thanks to them for their public service.
Here are some stories about the rest of the week:
posted by Sandy Connolly • 4/17/2012 at 4:04 PM
Having trouble repaying your federal student loan? Check with the federal student loan ombudsman at: http://www.ombudsman.ed.gov/. They may be able to help!
posted by Sandy Connolly • 4/11/2012 at 3:25 PM
Thanks to all the students who participated in yesterday's round table discussion at the U! For over an hour, students from a variety of colleges shared their personal stories and challenges with Governor Mark Dayton, Senator Al Franken, University President Kaler, and Larry Pogemiller, Director of the Office of Higher Education.
Each and every student was very impressive. Even more impressive was their determination to complete their education and secure a better future for themselves and their families. Many work 2 or 3 jobs, some are single parents, and others served our country in the service.
Check out these stories for more:
posted by Sandy Connolly • 4/10/2012 at 1:28 PM
Financial Aid is not limited to low-income families. Always apply for financial aid!
posted by Sandy Connolly • 4/9/2012 at 8:48 AM
There's a lot of good stuff going on next week to shed some light on college affordability issues and student debt.
On Monday, Governor Mark Dayton, Senator Al Franken, University of Minnesota President Eric Kaler and Larry Pogemiller, the Director of the Office of Higher Education, will sit down with 10 Minnesota college students to learn about the challenges and successes they have had pursuing a postsecondary education.
On Tuesday, turn in to KARE 11 at 6:20 a.m. to see Larry Pogemiller talk about ways students can have some control over their college expenses and debt. Later that day, students and parents can get their questions answered by a panel of financial aid experts by calling KARE 11 at 4:00, 5:00 and 6:00.
More to come!
posted by Sandy Connolly • 4/6/2012 at 3:43 PM
On Monday, Governor Mark Dayton proclaimed April as "Financial Literacy Month" in Minnesota. Sophie Wallerstedt, a junior at the University of Minnesota, drew agreement from Governor Dayton when she said "I believe student debt is a national crisis that is plaguing my generation."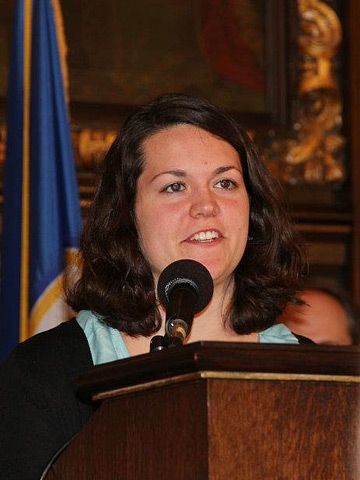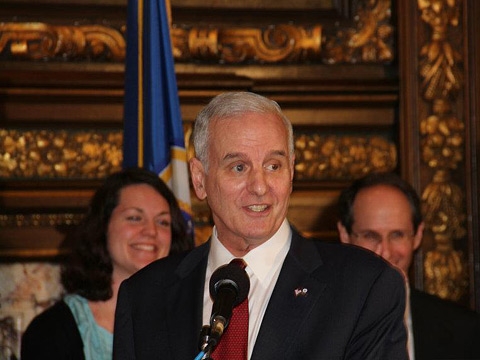 During the second week of April, the Office of Higher Education will focus on financial literacy issues for college students. Events for the week can be found on our website at:linkText
Check back often for more information!
posted by Sandy Connolly • 4/4/2012 at 12:34 PM
New information from the U.S. Department of Education gives us an early look at how many students have already filled out the FAFSA in Minnesota.
As of March 19th, the FAFSA completion rate in state public high schools is 27%. Eighteen public high schools have FAFSA completions rates of 40% or higher.
Minnesota's private high school FAFSA completion rate is 34%; nine private high schools have FAFSA completion rate of 40% or higher.
As pointed out by OHE researcher Meredith Fergus, however, the timing of FAFSA completion is primarily dictated by what school a student is planning to attend.
Based on the most recent data available (2009-2010), 86% of Minnesota high school graduates enrolling in a Minnesota college in the fall will complete a FAFSA.
More information can be found on the OHE website at: FAFSA DATA under the heading "FAFSA Data by High School".
posted by Sandy Connolly • 3/29/2012 at 4:04 PM
In case you missed it, State Higher Education Executive Officers (SHEEO) released a report last week on higher education finance for fiscal year 2011. Focusing on institutional finance, the report contained numerous graphs and charts that could be a little tough to slog through, but the real take-away was this: despite reduced state funding, Minnesotan's continue to invest in higher education - relying increasingly on tuition, which in turn is paid with a larger share of loans.
Here are two local news stories about the SHEEO report:
posted by Sandy Connolly • 3/22/2012 at 2:18 PM
Larry Pogemiller, Director of the Office of Higher Education, and MnScu Chancellor Steven Rosenstone joined MDE's Read-It recently to help spread the word about how important early childhood education is to success in college.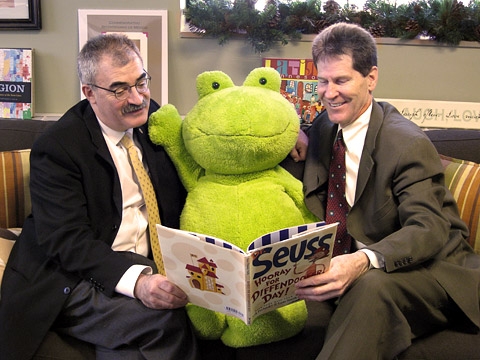 posted by Sandy Connolly • 3/20/2012 at 1:58 PM
Meredith Fergus, OHE researcher, told members of the House Redesign Caucus today that she "is very excited" about the fact that the first data from the Statewide Longitudinal Education Data System (SLEDS)will be available soon.
SLEDS is a joint project of OHE, MDE and DEED, designed to help the state identify the best pathways to success in education and the workforce. During times of limited resources, targeting investments to areas where they can have the most positive impact makes good sense.
The members of the Redesign Caucus seemed to agree that yes, data can be exciting!
More to come.
posted by Sandy Connolly • 3/19/2012 at 4:52 PM
Thanks to President Davenport and so many others at Minnesota State University Mankato for their hospitality yesterday. We had a great visit and learned a lot about the tremendous education being provided to students at this great University.
One of the things that stayed with me after we left is their commitment to providing every student with a "hands on" experience in their field of study before they graduate. The school works closely with regional business partners to align the education they provide with the skills needed for success. They also boast of an outstanding placement rate!
Initial talks are underway for another visit to Mankato in the near future.
Here's MSU Mankato President Richard Davenport and Director of the Office of Higher Education Larry Pogemiller: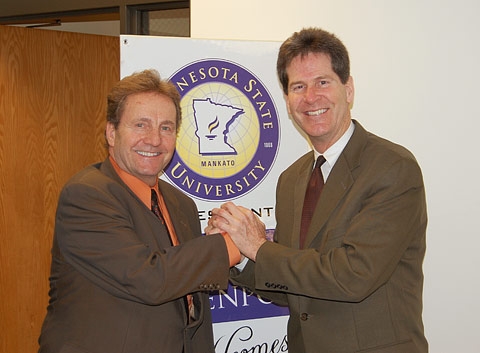 posted by Sandy Connolly • 3/15/2012 at 12:20 PM
I just saw this notice for the Summer Enrichment camps being held at Wolf Ridge Environmental Learning Center in Finland, MN. Wolf Ridge
Camps are scheduled for students ranging from 4th grade through 12th grade, and the Minnesota Office of Higher Education/Wolf Ridge Scholarship program offers assistance to low-income students. If you qualify for free or reduced lunch at school and have a C average, you may be eligible.
If you've never been there, Wolf Ridge is a state treasure, offering campers the opportunity to experience the beauty of nature and Minnesota's wildlife in northern Minnesota. Older students have the opportunity to canoe and backpack into the Boundary Waters, an experience they won't soon forget. Students will be accepted on a first-come basis, so don't wait!
posted by Sandy Connolly • 3/12/2012 at 2:58 PM
Busy days at OHE! This week we visited Minnesota West Technical College in Granite Falls. Many thanks to Linda DeGriselles, Campus Dean, and Andrea Mills for the tour of their campus.
As we toured their Fluid Power Technology program, we came to a wall covered in job postings. Dean DeGriselles said they receive at least two calls a week from companies around the country looking for graduates of this program, offering jobs with very good starting pay. DeGriselles said she wishes more students knew about this field, as well as others in manufacturing that provide good wages, benefits, and job security.
Manufacturing jobs are coming back and schools like Minn West in Granite Falls are training the workers they need!
posted by Sandy Connolly • 3/9/2012 at 3:10 PM
Here's the latest entry from the Higher Education Veterans Program in Kuwait blog. Hi Ed in Kuwait
If you haven't been following it, the blog is written by Tony Tengwall, who works with the Minnesota Department of Veterans Affairs Higher Education Veterans Program. Tony went to Kuwait as part of a group assembled by the MN National Guard to help soldiers find jobs when they return to civilian life.
Good work being done to help Minnesota's returning veterans!
posted by Sandy Connolly • 3/9/2012 at 1:22 PM
It was just announced that President Eric Kaler at the University of Minnesota, will give his first State of the University address March 1 in the Coffman Memorial Union Theater on campus.
According to a story by Joe Kimball in MinnPost, the speech, called "Balances," will take place at 3:30 and will be live streamed on the University's website.
According to a University statement, the speech will: "outline Kaler's vision and priorities for Minnesota's land-grant public research university, expanding on his signature themes of driving excellence in and access to the U's teaching, research and community engagement. Particular priorities Kaler plans to address include his efforts to push for the state's reinvestment in higher education, stemming the rise in tuition and student debt and improving the university's operational excellence."
posted by Sandy Connolly • 2/23/2012 at 10:59 AM
Whether it's credit cards, student loans or car loans, it doesn't take long for high school and college students to be swimming in debt - especially if they don't have the right tools to manage their finances.
Thanks to a financial literacy grant awarded by the Office of Higher Education, high school student in Little Falls, Staples, Brainerd and Crosby-Ironton school districts are getting the information they need to help them manage their money.
A recent article in the Morrison County Record money management provides more details about the nine-week course juniors and seniors are getting at the Little Falls Community High School.
Check it out!
posted by Sandy Connolly • 2/23/2012 at 9:38 AM
The Minnesota Indian Affairs Council is pleased to announce the next grant cycle for the Dakota and Ojibwe Language Revitalization Grants which fund Dakota and Ojibwe Language Revitalization in Minnesota.
During the 2011 legislative session, the State Legislature appropriated $550,000 in 2012 and $550,000 in 2013 to the Minnesota Indian Affairs council to be used to, preserve Dakota and Ojibwe Indian languages and to foster educational programs in Dakota and Ojibwe languages. The 2011 grant is a continuation of a grant program which began in 2009 and is underwritten by an appropriation from the state legislature from Minnesota's arts and cultural heritage fund.
The mission of this revitalization grant is that Dakota and Ojibwe are spoken and valued as vibrant, living, and thriving languages throughout Minnesota. The vision of the grant is To protect and empower our children, parents, and elders in the continuing development of our language, thus maintaining Tribal Sovereignty. These two statements set the tone for the Dakota and Ojibwe Language Revitalization Grant.
The grant areas are intentionally broad and somewhat flexible so that a diverse array of projects can be funded. Offices, agencies, or divisions administered under the authority of an American Indian Nation or Alaska Native Community located in Minnesota, recognized educational facilities, and non- profits, are encouraged to apply.
The Minnesota Office of Higher Education was pleased to host the monthly meeting of the Dakota and Ojibwe Language Revitalization Grant Working Group this week as they prepared to review a new set of proposals over the next couple months.
More info on the grant program and the RFP can be found at www.indianaffairs.state.mn.us or by contacting the Minnesota Indian Affairs Council's JoLynn Shopteese at JoLynn.Shopteese@state.mn.us.
posted by Sandy Connolly • 2/16/2012 at 3:46 PM
It was great to learn today that four Minnesota colleges have been named to Princeton Review's "Best Value Colleges: 2012 Edition"!
The list of 150 colleges picked nationwide includes Carleton College in Northfield, Macalester College in St. Paul, the U of MN - Twin Cities and U of MN - Crookston.
According to their website, the Princeton Review selects its "Best Value" list based on data supplied by more than 650 colleges. The top schools were chosen based on academics, the cost of attending, and the amount of aid provided to students. The Princeton Review asserts some of the high-tuition schools on the list keep out-of-pocket costs down by offering generous financial aid packages.
Congrats to these four outstanding Minnesota colleges!
For more information, visit www.princetonreview.com/best-value-colleges.aspx.
posted by Sandy Connolly • 2/8/2012 at 11:07 AM
A recent McClatchy Washington Bureau article highlights the successful FastTRAC program in Minnesota. With an 88 percent completion rate, FastTRAC provides both occupational training and remedial coursework in the at the same time, helping students move into the workforce prepared with the right skills for the job.
As reported in the story, Governor Dayton's Workforce Council has recommended expanding FastTRAC to every state community and technical college. With the Governor in agreement, this proposal now moves to the State Legislature.
posted by Sandy Connolly • 2/7/2012 at 2:12 PM
The Brainerd Dispatch has a great story about the good work being done in the Lakes Region as a result of the financial literacy grant OHE awarded to Central Lakes College.
The grant is paying for financial literacy classes not only at the college, but also for dual enrollment credit at Little Falls, Brainerd and Motley.
Nancy Walters, program manager at OHE, said she will be looking for another round of grant recipients before the beginning of the next fiscal year.
The grants are funded by the College Access Challenge Grant Program, a federal program that seeks to increase the number of low-income student who are prepared to enter and succeed in postsecondary education.
posted by Sandy Connolly • 2/2/2012 at 4:46 PM
Older Posts | More Recent Posts