Big Ed
We've got some catching up to do! Within the past two weeks, Director Pogemiller and I have visited several outstate college campuses. We traveled to Fergus Falls, Alexandria, Collegeville and St. Cloud. At each stop, we were greeted by dedicated and enthusiastic educators who were thrilled to show us their campus and tell us about their programs.
Let's start with M State in Fergus Falls. We spent over three hours there visiting with Interim President Peggy Kennedy, Provost Carrie Brimhall, Business Manager Dennis Zilmer and GL Tucker, Dean of Custom Training Services. State Rep. Bud Nornes, Chair of the House Higher Ed Committee and resident of Fergus Falls, joined us there for the afternoon.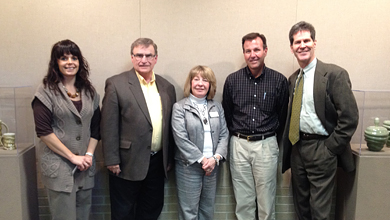 Pictured here, left to right are: Provost Brimnall, Rep. Nornes, Interim President Kennedy, GL Tucker and Larry Pogemiller, OHE Director.
To begin with, the campus is beautiful. The facility is filled with original artwork, much of it done by former and present students, or local artists.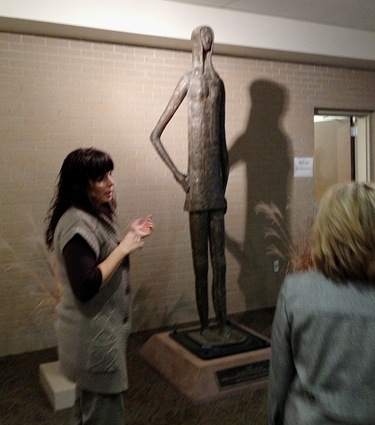 We were especially impressed with the innovative steps they have taken to stay relevant to their students and to reduce costs. The two-year RN program is just one example.
They have also created a strong connection to the regional workforce, creating programs that help meet the needs of both their students and businesses.This is a topic generating a great many questions across the state, and their success and vision for making this work were very insightful.
The pride in their school and their students was contagious. Many thanks for a great day!
posted by Sandy Connolly • 2/1/2012 at 4:00 PM
Here's a simple fact: if you want financial aid to help you continue your education after high school, you have to fill out the Free Application for Federal Student Aid (FAFSA). 70% of Minnesota students and their families do this every year, putting us well above the 59% national rate, but that still leaves 30% of our population behind.
And it's not just about money - according to national data, 90% of students who fill out a FAFSA go on to postsecondary. Something about taking that step helps students follow through on applying for and enrolling in college.
It was just announced that the U.S. Department of Education is looking for 80 high schools to join their "FAFSA Completion Project". Qualifying schools will be selected on a random basis, and will have access to both FAFSA completion data and student information about how to pursue a college education.
The deadline to apply is March 2nd. Read more about it here:FAFSA Completion Project
posted by Sandy Connolly • 1/30/2012 at 12:54 PM
Here is another posting from OHE Research and Policy Analyst Lesley Lydell on the LearnmoreMN blog:postsecondary participation
This entry explores the issues of attainment - are too many, or not enough students going to college?
posted by Sandy Connolly • 1/27/2012 at 12:10 PM
We learned today that the Office of Postsecondary Education is launching a new Twitter account on Student Federal Aid.
Check out @FAFSA on Twitter for an ongoing conversation around student financial aid.
According to their news release, on January 26th, Martha Kanter, the Under Secretary of Education, will be hosting FAFSA Office Hours where she will solicit and answer students' FAFSA questions live on Twitter. This event will start at 4:30 EST and will be the first in a monthly series of Q & A sessions that Federal Student Aid will host on Twitter.
Because completion of the FAFSA is necessary to apply for college, education leaders across the country are stepping up efforts to get every student to fill one out.
The Minneapolis school district is developing a system to keep counselors and school staff up to date on a student's FAFSA, what has been completed and what they have left to do. I think we can expect to see similar efforts in school districts across the state.
posted by Sandy Connolly • 1/24/2012 at 3:30 PM
One of the biggest challenges students of low-income families face is navigating the intricacies of paying for college. Many are also first-generation college-goers and miss out on the direction and guidance that can be provided by family members who have experienced it first-hand.
This Thursday, Jan. 19th, parents and students at Andersen United in Minneapolis will have the chance to learn much of what they need to know about how to pay for college.
In partnership with the Community Education department, OHE Get Ready staff will set up seven stations families and students can visit to learn about different ways to pay for college, as well as financial basics such as planning and early saving. The Open House will run from 5:30-7:30.
Get Ready is providing information such as this in 10 Twin Cities schools and at qualifying schools across the state. Great work!
posted by Sandy Connolly • 1/17/2012 at 2:36 PM
The word is getting out! For the past 12 years, a college readiness program administered by the Office of Higher Education has helped thousands of students across the state better understand what they need to do to prepare for college.
This fall, the Get Ready program received another 6-year grant, allowing them to continue this important work at 10 Twin Cities schools, as well as serving another 18,000 students across the state.
Holly Meuers, Get Ready Outreach Associate, was recently in Walnut Grove playing "Get Ready Jeopardy" with 4th and 5th grade students. Check out this article in the Sentinel Tribune.Get Ready
Read here News Release to learn more about the Get Ready program. Don't forget to check out our page on facebook, too! Get Ready facebook
posted by Sandy Connolly • 1/11/2012 at 3:10 PM
There is a good story today in the Bemidji Pioneer Northern MN higher education schools to cooperate more about increased collaboration and cost savings among northern college campuses in our state.
According to the article, about 20 campuses in the MnSCU system have formed a northern Minnesota alliance to better serve rural parts of the state. Discussions are underway, and they hope to have cost-saving initiatives in place by next fall.
This is another great example of how Minnesota's higher education leaders are working together to provide improved services at a better cost for students.
Big Ed will follow their progress and report back.
posted by Sandy Connolly • 1/9/2012 at 8:37 AM
In case you missed it, check out OHE Research and Policy Analyst Lesley Lydell's recent posting on the LearnmoreMN blog. Her entry highlights positive trends in postsecondary participation, but also points to continued gaps in achievement among Minnesota's students of color.
Read it here:Preparing for and Entering Postsecondary Education
Lesley references data from the 2011 Minnesota Measures report, available soon!
posted by Sandy Connolly • 1/6/2012 at 2:19 PM
Tim Post at MPR has a good story today Employed students about the price students can pay from working too many hours while in school.
As his story said, the choice for students is this: do I borrow more so I can work less and focus on my studies, or do I work more to keep my debt down but run the risk of shortchanging my college career? Students and educators alike agree that longer work hours can negatively impact studies.
In November, AP reporter Justin Pope wrote another story on this issue, titled: The other student problem: too little debt. Pope chronicled the dangers inherent in borrowing too little - primarily a longer path to degree completion. too little debt
Turns out there are risks in both approaches. I encourage students to talk to their family and school counselors to help them determine the best path for them.
posted by Sandy Connolly • 1/4/2012 at 4:23 PM
Jenna Ross at the Star Tribune has a story today about recent changes to the federal Pell grant program that will cost students hundreds of dollars a month.
Most students count on a few months grace period after graduation before they have to start paying back these loans. Under these changes, that grace period has been removed.
Big Ed will have more about the impact of the changes to Pell in the days to come.
posted by Sandy Connolly • 12/29/2011 at 8:48 AM
In case you missed it, the magazine "Diverse Issues in Higher Education" highlighted Minnesota in their December issue. Tubby Smith graces the front cover, with several more MN campuses included inside.
Check it out at Diverse
Nice work by MN college and universities!
posted by Sandy Connolly • 12/28/2011 at 3:18 PM
Wow! According to new information from the National Student Clearinghouse Research Center, 84.7% of college students nationwide are staying in school. The rate is 92.5% for full-time students and 71.2% for part-time.
The study broke it down by institution type, as well.
Check it out at snapshot
posted by Sandy Connolly • 12/15/2011 at 4:39 PM
As more and more high school students are finding out, it helps to have volunteer experience on your resume when you apply for college.
Check out some great opportunities at The Neighborhood House! volunteer
Food Shelf Assistant
Friendly volunteers in our food shelf provide direct service to our participants. Interact while you shop with families in our food shelf. In addition, sort and stock food from various generous donations when supplies are low. Our food shelf is open every day, lots of availability! Spanish & Hmong speakers a plus. Hours: Monday-Friday 9-4. Under 14 with adult.
posted by Sandy Connolly • 12/14/2011 at 3:40 PM
What's the best advice for paying for college? Start early!
Minnesota's College Savings Plan was just ranked one of the top ten investment performers: MNCollegeSavings
For just $25, family members and friends can get started today building a future for a loved one. Check it out!
posted by Sandy Connolly • 12/12/2011 at 3:41 PM
Kudos to Dr. Paul Pribbenow, President of Augsburg College, and his wife, Abigail, for their congenial gathering of higher education leaders to welcome Larry Pogemiller as the new Director of the Office of Higher Education!
Good things can happen for higher ed when stakeholders come together!
posted by Sandy Connolly • 12/7/2011 at 12:31 PM
Thanks to Jenna Ross at the Star Tribune for posting this flash mob video!
I have to say, the saxaphone gave me the chills!
posted by Sandy Connolly • 12/2/2011 at 12:11 PM
We heard great news today out of the Bemidji area about the success of College Application Week!
Several colleges waived their application fee during the week of November 14 - 18, which was officially proclaimed as "College Application Week" by Governor Dayton. Two of those colleges, Bemidji State University and Northwest Technical College, both saw a significant increase in college applications as a result.
At NTC, three times more applications were received than during the same week a year ago, and at BSU, just over 1,000 students applied - compared to 141 last year! You can read more about it at the Bemidji Pioneer Pioneer
Many thanks to both of those schools for waiving their fee, and also to the countless volunteers and school officials across the state who worked with students throughout that week to help them fill out a college application.
Just like you can't win the lottery if you don't buy a ticket, you can't go to college if you don't apply. We are looking forward to an even more successful College Application Week next year!
posted by Sandy Connolly • 12/2/2011 at 9:13 AM
While there is little dispute that some level of college completion will be needed for the majority of the jobs of the future, the high cost of that education and rising student debt are garnering considerable national attention.
This week, Education Secretary Arne Duncan called on higher education officials to "think more creatively and with much greater urgency" about ways to contain college costs and debt.
Speaking at a conference of college financial aid workers, Duncan laid out three ideas for higher education reform:low-cost student loans based in part on how well schools have done in graduating Pell recipients; incentive grants awarded for increased completion rates and lower achievement gaps; and a fund to support programs that accelerate learning and hold down tuition.
Duncan's entire speech can be found here: speech
posted by Sandy Connolly • 11/30/2011 at 3:47 PM
If you're thinking of taking out a loan to help pay for college, check out the SELF Loan, administered by the Minnesota Office of Higher Education. SELF offers competitive interest rates of 3.8% variable and 7.25% fixed, and we've improved our website to make applying and managing your loan easier. Check it out at: SELF
posted by Sandy Connolly • 11/29/2011 at 11:45 AM
On this day before Thanksgiving, many are asking: what are you grateful for?
Big Ed is grateful for Minnesota's rich tradition of excellence in higher education. For generations, our students have learned from first-class educators, at world-class institutions. Despite ongoing challenges, such as rising costs and funding cuts, our colleges and universities continue to provide some of the best education available worldwide.
I am especially grateful for the students. It is comforting to know that the next generation of leaders is both prepared and eager to meet the challenges of the coming years. On every front - including the environment, health care, the economy, government and more, we trust that today's students will lead us to a brighter future.
Happy Thanksgiving!
posted by Sandy Connolly • 11/23/2011 at 2:22 PM
Older Posts | More Recent Posts