Big Ed
Preparing for success in our global economy is more important than ever for today's college students. According to the Institute of International Education's Open Doors report institute nearly 9,000 Minnesota college students got a first-hand look at life in another country last year by studying abroad.
For these students, the experience of living in another country not only improves their employment potential,it also helps them gain a better understanding of other cultures, build new relationships and helps dispel stereotypes.
The report also shows that in 2010-11, just over 12,000 international students studied at a Minnesota college, making us the 18th most popular state destination for foreign students. In addition to expanding our world by bringing their culture to our doorstep, it is estimated that foreign students brought over $300 million into our state economy the same year.
posted by Sandy Connolly • 11/23/2011 at 9:43 AM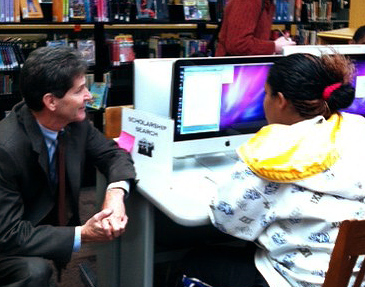 Sen. Larry Pogemiller, Director of the Minnesota Office of Higher Education, visited with a student at Brooklyn Center High School last week during Minnesota's first College Application Week.
Brooklyn Center was one of 17 pilot schools in the state that signed up for this initiative aimed at helping every high school senior apply for college.
posted by Sandy Connolly • 11/21/2011 at 11:13 AM
Welcome to the very first posting of "Big Ed", the Minnesota Office of Higher Education's new blog!
While this is definitely a work in progress, here is what I hope Big Ed can be: a place for students, parents, higher education leaders, policy makers and journalists to check-in for the latest information in higher education. I'll post photos, news items, upcoming deadlines, fun facts and events, and information about Minnesota's students and colleges.
At this point, Big Ed will not be interactive, but if you have feedback or ideas for what kind of information would be useful, send me an email—a link is provided after each posting.
Check back soon!
posted by Sandy Connolly • 11/17/2011 at 9:39 AM