Big Ed
M State Fergus Falls has a lot to brag about!
We've got some catching up to do! Within the past two weeks, Director Pogemiller and I have visited several outstate college campuses. We traveled to Fergus Falls, Alexandria, Collegeville and St. Cloud. At each stop, we were greeted by dedicated and enthusiastic educators who were thrilled to show us their campus and tell us about their programs.
Let's start with M State in Fergus Falls. We spent over three hours there visiting with Interim President Peggy Kennedy, Provost Carrie Brimhall, Business Manager Dennis Zilmer and GL Tucker, Dean of Custom Training Services. State Rep. Bud Nornes, Chair of the House Higher Ed Committee and resident of Fergus Falls, joined us there for the afternoon.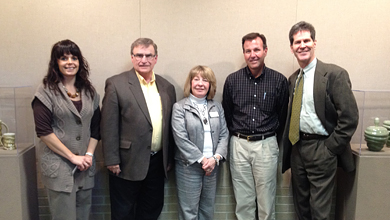 Pictured here, left to right are: Provost Brimnall, Rep. Nornes, Interim President Kennedy, GL Tucker and Larry Pogemiller, OHE Director.
To begin with, the campus is beautiful. The facility is filled with original artwork, much of it done by former and present students, or local artists.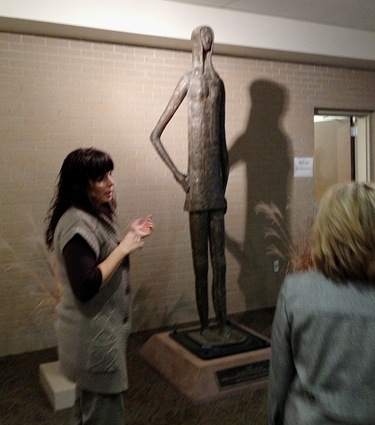 We were especially impressed with the innovative steps they have taken to stay relevant to their students and to reduce costs. The two-year RN program is just one example.
They have also created a strong connection to the regional workforce, creating programs that help meet the needs of both their students and businesses.This is a topic generating a great many questions across the state, and their success and vision for making this work were very insightful.
The pride in their school and their students was contagious. Many thanks for a great day!
posted by Sandy Connolly • 2/1/2012 at 4:00 PM