Home > Research, Data & Reports > Financial Aid Data & Trends > Federal Financial Aid Data
Federal Financial Aid Data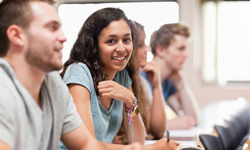 The federal government provides financial aid for eligible students attending the nation's postsecondary educational institutions. Several sources of federal financial aid received are included in this section.
To quality for financial aid, students must complete the Free Application for Federal Student Aid (FAFSA). Find information on the percent of Minnesota students who complete the FAFSA by Minnesota high school.
The Minnesota Office of Higher Education monitors debt trends of graduating students. Find the amount of federal financial aid awarded to Minnesota undergraduates and loan default rates.
Data on students enrolled in Minnesota institutions from the U.S. Department of Education's National Postsecondary Student Aid Survey (NPSAS) is analyzed. The survey aims to broaden the understanding of how students and their families finance education along with the characteristics of students enrolled in postsecondary education.
Federal Aid Awarded to Undergraduates at Minnesota Institutions
Amount of Aid
| | FY 2001 | FY 2003 | FY 2005 | FY 2007 | FY 2009 | FY 2011 |
| --- | --- | --- | --- | --- | --- | --- |
| Federal Pell Grants | $111,900,476 | $166,733,957 | $179,390,808 | $178,788,009 | $263,967,345 | $512,664,048 |
| Federal SEOG Grants | $19,061,484 | $19,646,324 | $20,925,222 | $20,628,628 | $20,622,242 | $21,197,558 |
| Federal Academic Competitiveness Grants | | | | $4,610,573 | $6,507,744 | $10,380,323 |
| Federal SMART Grants | | | | $3,451,522 | $3,210,231 | $7,961,670 |
| Other Federal Agency Grants | $4,893,421 | $8,258,099 | $5,968,998 | $5,169,468 | $6,698,234 | $21,776,982 |
| Federal Stafford Subsidized Loans | $166,133,526 | $233,875,007 | $273,892,454 | $295,998,660 | $410,797,996 | $685,332,255 |
| Federal Stafford Unsubsidized Loans | $120,832,037 | $190,468,256 | $210,325,683 | $246,983,899 | $477,385,787 | $742,323,243 |
| Federal Perkins Loans | $25,090,115 | $29,833,822 | $31,610,579 | $27,411,830 | $15,763,483 | $17,196,684 |
| Federal PLUS | $51,157,677 | $67,089,364 | $99,855,268 | $140,599,912 | $118,704,439 | $161,056,571 |
| Other Federal Agency Loans | $2,866,057 | $974,760 | $771,672 | $1,181,971 | $633,304 | $574,045 |
| Federal Work-Study | $18,451,424 | $24,173,031 | $20,548,458 | $19,580,563 | $20,156,879 | $26,248,633 |
| Totals | $648,698,123 | $890,595,623 | $1,014,026,092 | $1,112,702,833 | $1,653,086,861 | $2,206,712,012 |
Source: Office of Higher Education
Number of Recipients
| | FY 2001 | FY 2003 | FY 2005 | FY 2007 | FY 2009 | FY 2011 |
| --- | --- | --- | --- | --- | --- | --- |
| Federal Pell Grants | 61,453 | 76,525 | 81,816 | 80,366 | 98,691 | 153,295 |
| Federal SEOG Grants | 19,250 | 19,844 | 22,180 | 23,433 | 23,795 | 33,094 |
| Federal Academic Competitiveness Grants | | | | 5,731 | 8,207 | 13,486 |
| Federal SMART Grants | | | | 1,067 | 1,043 | 2,605 |
| Federal Stafford Subsidized Loans | 66,643 | 83,765 | 92,989 | 99,638 | 113,588 | 184,940 |
| Federal Stafford Unsubsidized Loans | 47,326 | 63,399 | 65,360 | 73,597 | 113,648 | 191,127 |
| Federal Perkins Loans | 13,071 | 14,372 | 13,835 | 11,900 | 7,506 | 9,447 |
| Federal PLUS | 8,679 | 9,868 | 13,503 | 19,204 | 13,238 | 16,226 |
| Federal Work-Study | 17,004 | 17,472 | 16,047 | 12,788 | 12,731 | 14,971 |
Source: Office of Higher Education
More Information