Graduation Rates
Graduation and retention rates of undergraduates in Minnesota's postsecondary institutions
Graduation is a goal of most new-entering full-time students entering Minnesota colleges and universities; however, not all of them complete their studies at the same institution as they entered. While some students will leave to transfer and complete somewhere else, others will drop out of college altogether.
The graduation rates shown track graduation rates of first-time, full-time students who entered a four-year institution six years prior to entry and completed a bachelor's degree at that same institution. At Minnesota's State Colleges (public two-year) graduates are tracked three years prior to entry. The State College's transfer-out rate is also included since many of those institutions serve students who intend to transfer before receiving a credential. Transferring is seen as a successful outcome of the mission of State Colleges.
Learn More
Tableau User Guide
Retention Rates
There are two data sources of retention data available.
The U.S. Department of Education tracks the retention of first-time full or part-time undergraduates from fall enrollment in their first year to fall of their second year. Retention rates are not reported by race/ethnicity.
Data from Minnesota's Statewide Longitudinal Education Data System tracks Minnesota high school graduating classes enrolled in any Minnesota institution from first year to second year. These data enable reporting by race/ethnicity and enable reporting of retention at any institution not just the first institution attended.
First to Second Year Retention in a Minnesota Postsecondary Institution by Race/Ethnicity, 2006 to 2015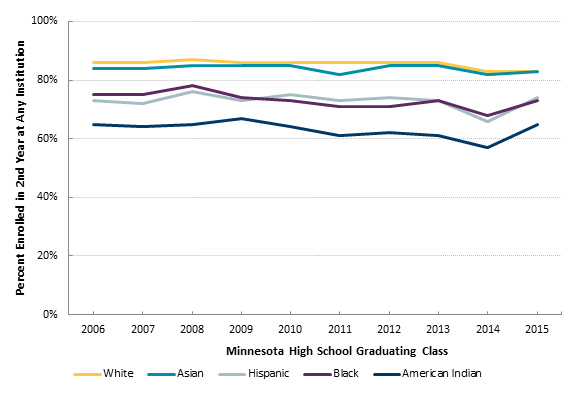 Source: Statewide Longitudinal Education Data System
About Graduation Rates
The graduation rates reported here were developed by the U.S. Department of Education's National Center for Education Statistics, to be used for the Integrated Postsecondary Education Data System (IPEDS), Graduation Rate Survey. These national standardized rates were devised so graduation rates could be compared across institutions.
The graduation rate tracks a cohort of students (defined as new-entering, full-time, first-time, degree-seeking) from their time of initial enrollment in an institution until they complete their program within 100%, 150% or 200% of normal time to program completion at the same institution. The standard reported rate is 150% of normal time. For a bachelor's degree program students graduating within six years are successful completers, while associate degree or certificates below bachelor's degrees completed within three years are successful completers.
Graduation rates measure whether students are completing their studies and institutional effectiveness in facilitating student completion. High graduation rates may indicate appropriately targeted student recruitment, effective campus communication and scheduling, strong instruction and advising, and accessible student support services. Other variables, such as the academic preparation of students, collegesadmissions selectivity, student demographics and financial support, also influence graduation rates.
Undergraduates who transfer into an institution are not included in the cohort used to calculate an institutions graduation rate. Likewise, undergraduates who transfer out of an institution adversely affect an institution's graduation rate.
According to data from the National Student Clearinghouse, Minnesota ranks high in the percent of undergraduates starting at Minnesota institutions who graduate from another institution than the one started. Percent graduating from another institution is 24 percent of public four year, 18 percent of public two year and 12 percent of private four-year starters.
Related Links