New Video Demystifies Paying for College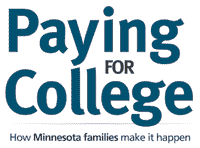 The Paying for College program and videos are packed with concrete advice from local experts -- they help demystify how Minnesota families can finance a four-year college education. Topics include:
Higher education is a worthwhile investment.
Don't let "sticker prices" stop you from considering your options.
Choices made before and during college impact expenses.
There are a variety of ways to cover cost of college.
Start saving what you can.
Manage your borrowing.
The importance of applying for financial aid and steps to follow.
A co-production of TPT's Minnesota Productions & Partnerships, Paying for College is co-sponsored by the Minnesota Office of Higher Education and the Minnesota Private College Fund.
Paying for College includes a core 30 minute program that airs on Minnesota Public Television plus several shorter videos. One addresses the needs of first generation students and families, one on financing a private non profit higher education, a video in Hmong, a video in Somali and a video in Spanish.
Paying For College was nominated for a regional Emmy in August 2014.
View the full program:
Paying for College: First in the Family - How families with students who will be the first in their family to attend college make it happen
Paying for College in Spanish - How Minnesota Latino families make it happen
After this video was produced, the MN Dream Act was passed, which provides access to resident tuition rates and state financial aid programs for Minnesota's undocumented students. You can find out more about the MN Dream Act and how to apply for state financial aid using the MN Dream Act application here.
Paying for College in Hmong - How Minnesota Hmong families make it happen
Paying for College in Somali - How Minnesota Somali families make it happen
Paying for Private College - How Minnesota families with students in private non-profit colleges make it happen
The core program will air on Minnesota public television stations statewide, through their Minnesota Channel offerings:
Sunday, February 9, 2014 at 6:30 PM
Sunday, February 16, 2014 at 12:30 AM
Sunday, February 16, 2014 at 6:30 AM
Sunday, February 16, 2014 at 12:30 PM
Request a DVD
Related Resources