Student Budgets and Net Prices Across States
2003-2004 NPSAS oversampled states
Many people are concerned about rising tuition and fees for undergraduate students. However, tuition and fees are only part of the costs facing students. There are many non-tuition expenses, such as room and board, transportation, and books, which contribute to the overall student budgets, or the price of attendance. The figure below illustrates the average student budget for undergraduates (as given by the institutions). For the 2003-2004 academic year, the national average student budget was $17,200.
These graphs represent all undergraduate students attending higher education institutions in the indicated states. The estimates include the three major institutional sectors (public 2-year, public 4-year and private not-for-profit 4-year).
Average Student Budget for Full-Time, Full-Year Undergraduates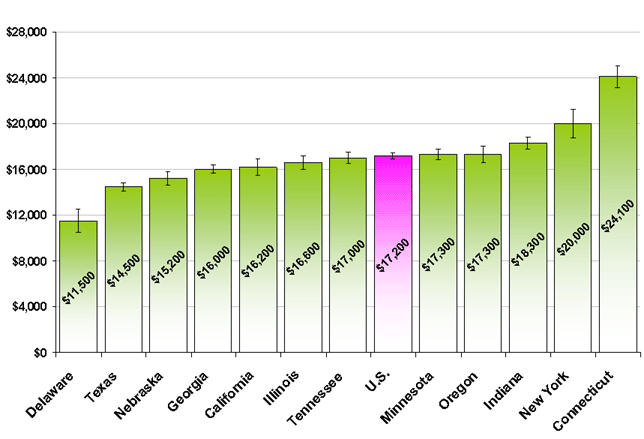 Students can receive a variety of grants to off-set the price of attendance. The actual cost facing the students is the student budget minus all grants. This is referred to as the net price. The figure below plots the average net price for all students across all sectors. The average net price in the U.S. is $13,800. While grants reduce the overall costs, the net prices remain high.
Average Net Prices (student budget less grants) for Full-Time, Full-Year Undergraduates