Dual Training Grant
Pairing on-the-job training with related instruction to generate a comprehensive platform for learning
If you have questions about this program, please contact the staff member listed on this page via email. If a staff member is not listed, please email info.ohe@state.mn.us and provide a detailed description of your question.
In support of the implementation of the Minnesota Dual-Training Pipeline administered by the MN Department of Labor and Industry (DLI), the 2015 Minnesota Legislature established the Dual Training Grant administered by the MN Office of Higher Education(OHE). The Dual Training Grant (Minnesota Statutes 136A.246) is a funding source that generates collaborative and strategic educational solutions between employers and related instruction training providers across Minnesota. Employers or organizations of employers may apply for grants to reimburse expenses related to instruction toward attaining an industry-recognized degree, certificate or credential for their employees.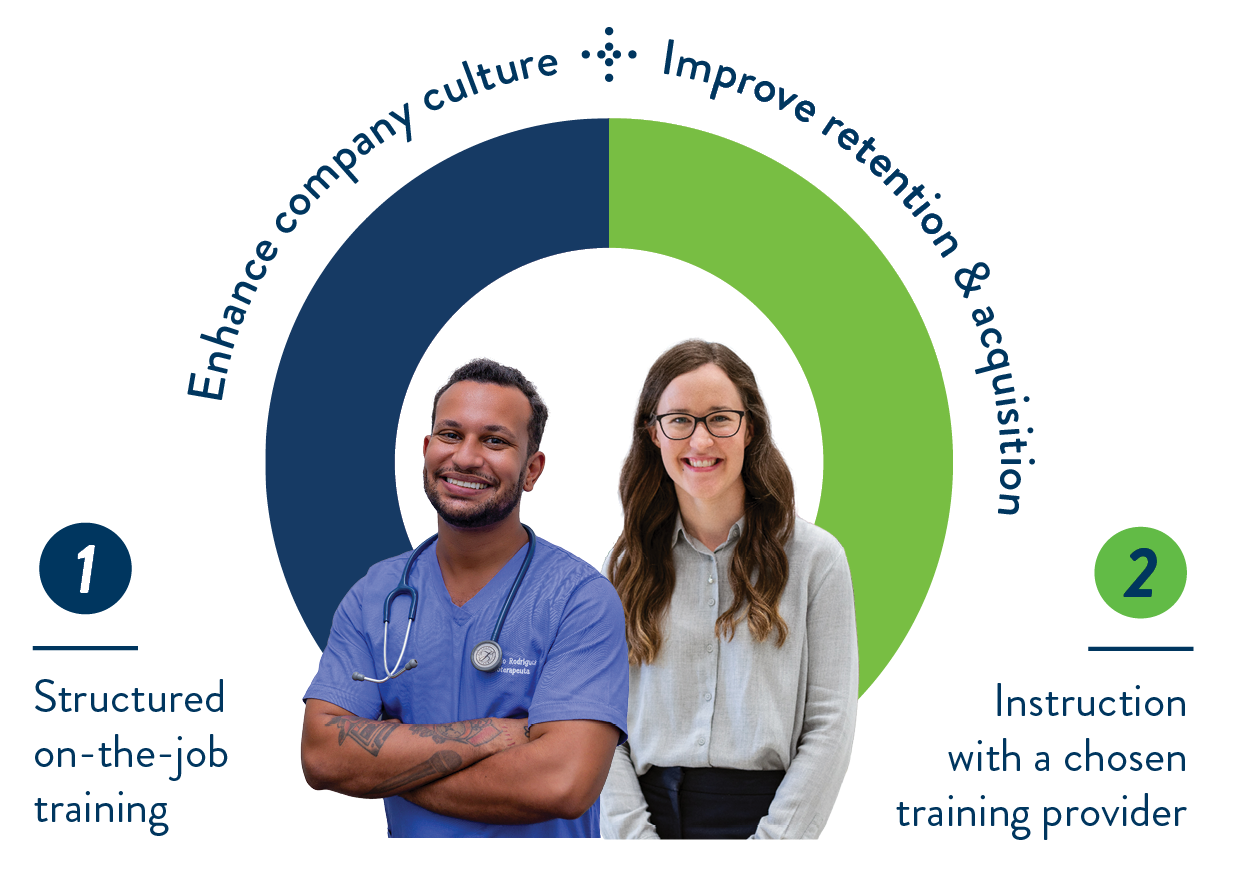 Click HERE for grant handout!
Who is Eligible?
To be considered for this competitive grant opportunity, applicants must meet all of the following:
Be an employer or organization of employers
Have or will have a dual-training program aligned with MN Dual-Training Pipeline industries and occupations
Employ or will employ a dual trainee who meets all of the following:

physically works at a permanent work location within Minnesota
has not attained occupational competency standard(s) prior to commencement of training
will earn an industry-recognized degree, certificate, or credential upon completion of dual-training program

Enter into agreement with one of more qualified related instruction training provider(s)
What Related Instruction Training Providers are Eligible?
To enter into an agreement with a related instruction training provider for this competitive grant opportunity, a training provider must meet all of the following:
Be registered, licensed or exempt by the Minnesota Office of Higher Education

Registered training providers
Licensed training providers
Exempt training providers

Minnesota public institutions including University of Minnesota and Minnesota State Colleges and Universities are exempt but are not included on an exemption list.

Provide instructor-led related instruction aligned with MN Dual-Training Pipeline occupations
Be authorized to award industry-recognized degrees, certificates, and/or credentials aligned with MN Dual-Training Pipeline occupations
How Much Money Can a Grantee Receive?
Each spring, approximately $2 million in Dual Training Grant funds are available. A grantee can receive up to $150,000 a year of which a dual trainee can benefit up to $6,000 per year. Grantees receive funds through a reimbursement process. Grantees pay related instruction costs and OHE reimburses grantees for related instruction costs. In some cases, a cost match is required of grantees. Allowable related instruction costs include tuition, fees, books, and materials that are required by training providers.
What is the Application Process?
Grant applications are available each spring. Visit the Request for Application webpage for more details about the application process and upcoming informational opportunities.
Dual Training Grant Resources
MN Dual-Training Pipeline
industries and occupations:
The Related Instruction Inventory is a starting point for employers to develop a dual-training program. This inventory includes education and training program options for MN Dual-Training Pipeline occupations. Employers are not required to partner with the training providers on the list as the list is a means to simply provide options.
Who do I Contact with Questions?
For Dual Training Grant Questions, please contact OHE at jacquelynn.mol.sletten@state.mn.us or (651) 355-0609
For MN Dual-Training Pipeline Questions, please contact DLI at Pipeline.Program@state.mn.us
Related Reports