Home > Preparing for College > Prepare at School > Minnesota High School Graduation Requirements
Minnesota High School Graduation Requirements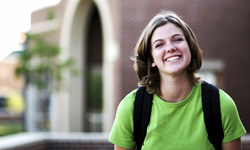 Before you begin thinking about college, you need to get through high school. All Minnesota students are required to take the following to graduate from high school.
Required Courses

| Credits | Subject |
| --- | --- |
| 4 credits | English/Language Arts |
| 3 credits | Mathematics (including algebra, geometry and statistics/probability) |
| 3 credits | Science (1 credit of biology plus 2 additional credits) |
| 3.5 credits | Social Studies (including U.S. history, geography, world history, government/citizenship and economics) |
| 1 credit | Art |
| 7 credits | Electives |
NOTE: Your school district may have additional requirements for graduation.
Minnesota Comprehensive Assessments
The Minnesota Comprehensive Assessments (MCAs) are the state tests that help districts measure student progress. With a few exceptions, all public school students in grades 3 through 8 take the reading and math MCA-IIs every year. In addition, students in grade 10 take the reading MCA-II and students in grade 11 take the math MCA-II. A science MCA-II test is also required once during grade 10, 11 or 12. All public school 10th graders must take the written composition test. In some cases, English Language Learners may be exempt from taking the reading MCA-II.
What is required for Graduation?
Generally speaking, Minnesota high school students must take and pass MCAs in reading and writing as a requirement for graduation. Students have more than one chance to earn passing scores on the MCAs. These tests replace the Basic Skills Tests previously required for graduation. Students must also take the MCAs in science and mathematics; however a passing score on these assessments is not required for graduation.
The Minnesota Department of Education is the official source for information on graduation requirements.
Why are these tests important?
The tests are important because they measure your progress and because a passing score on each is required for high school graduation. The tests also measure the kinds of things that are needed for success in college.
Your results are important because they offer valuable feedback. You should use this feedback to help you determine which subjects you want to explore more and the subjects where you might need to improve. To enhance your success on the MCAs, you could enroll in an enrichment program over the summer. For those subjects where you're struggling, ask your teacher, counselor or parent if extra help is available at your school.
What's covered on the tests?
Reading MCA: You'll read both fiction and nonfiction such as poems, short stories or informational passages. To pass the reading test, you must show your ability to read and understand English passages that you'll run across when you're an adult. You must read a passage, such as a newspaper article, and then be able to:
identify the main idea and purpose
recognize supporting details
identify the meaning of words and phrases
recognize the author's point of view
draw logical conclusions
distinguish between fact and opinion
Math MCA: You must be able to solve mathematical problems derived from typical situations in life, including how to:
solve problems involving whole numbers, fractions, decimals and integers
solve problems involving percents, rates, ratios and proportions
use concepts of number sense, place value and number relationships to compare, order and determine equivalence of whole numbers, fractions, decimals, percents and integers
use estimation in problem solving
apply measurement concepts
read, interpret and use tables, charts, maps and graphs to analyze data, identify patterns and make predictions
use elementary concepts of probability and statistics
apply geometric and spatial relationships
Science MCA: You must know the basics of life science and the history and nature of science, including how to:
understand the nature of scientific ways of thinking and that scientific knowledge changes and accumulates over time
design and conduct a scientific investigation
understand the relationship between science and technology and how both are used
recognize the historical and cultural context of scientific endeavors and how they influence each other
comprehend that all living things are composed of cells, and that the life processes in a cell are based on molecular interactions
classify, compare and contrast the diversity of organisms on Earth
describe how the environment and interactions between organisms can affect the number of species and the diversity of species in an ecosystem
explain how inherited characteristics are encoded by genes
understand how biological evolution provides a scientific explanation for the fossil record of ancient life forms
describe and explain the cycling of matter and flow of energy through an ecosystem's living and non-living components
understand how all organ systems, including the nervous system, interact to maintain a state of equilibrium
Written Composition MCA: You must write a clear message in English for an adult reader. Successful compositions must have:
a clearly stated message
supporting ideas related to the message
a clear connection among ideas
a logical beginning, middle and end
correct use of grammar, spelling and punctuation
A passing paper is well organized and may only have minor mechanical or spelling errors. Results are based on the overall quality of the composition. A set of criteria (scoring rules) is used to determine if the composition meets the passing score.
The scoring criteria focus on the following five characteristics of written composition:
clarity of central idea
coherent focus
organization
detail support or elaboration of ideas
language conventions (sentence formation, vocabulary, word order and other language mechanics)
Related Pages