Home > Preparing for College > College Knowledge Month
College Knowledge Month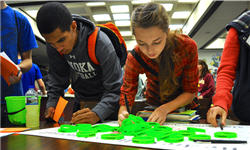 October in Minnesota is College Knowledge Month!
Our state has spent the last two years developing a "College Application Week" initiative. As we look forward to next fall, we are excited to announce that the former College Application Week will now be College Knowledge Month! This change is based on feedback from College Application Week site coordinators, volunteers and stakeholders. Sponsored by a network of K12, higher education and nonprofit partners, the goal of College Knowledge Month is to provide every graduating high school senior with the preparation, opportunity, and support needed to apply to college. This statewide effort will occur during the month of October.
Explore. Plan. Apply!
A month-long effort will allow students to do more than just submit an application. Applying is only one step of the college application process - the result of thoughtful exploration and planning. With this time frame, students can participate in the process at their own pace -- and schools can align this initiative with the many college exploration activities that are already taking place in the fall of the academic year. The objectives of this project are as follows:
To help schools establish and/or build upon a culture of college-readiness.
To communicate to all students the importance of preparing for and applying to college.
To engage and inform underrepresented students (first-generation college students, students of color, and low-income students) about postsecondary opportunities, culminating in the application process.
To provide a statewide message and excitement about exploring and planning for college.
To increase the number of Minnesota seniors who complete the college admissions process.
Interested in participating in College Knowledge Month? Click here for registration information.
More Information: