Home > Preparing for College > October is College Knowledge Month
October is College Knowledge Month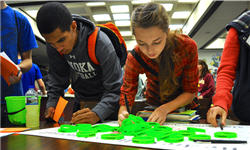 Sponsored by a Steering Committee of K12, higher education and nonprofit partners, the goal of College Knowledge Month is to provide every graduating high school senior with the preparation, opportunity, and support needed to apply to college. This statewide effort will occur annually during the month of October.
Read more about the background and impact of this initiative, which piloted in Minnesota in 2011.
View 2013 College Knowledge Month Sites: Metro Area | Greater Minnesota
Explore. Plan. Apply!
A month-long effort will allow students to do more than just submit an application. Applying is only one step of the college application process - the result of thoughtful exploration and planning. With this time frame, students can participate in the process at their own pace -- and schools can align this initiative with the many college exploration activities that are already taking place in the fall of the academic year. The objectives of this project are as follows:
To help schools establish and/or build upon a culture of college-readiness.
To communicate to all students the importance of preparing for and applying to college.
To engage and inform underrepresented students (first-generation college students, students of color, and low-income students) about postsecondary opportunities, culminating in the application process.
To provide a statewide message and excitement about exploring and planning for college.
To increase the number of Minnesota seniors who complete the college admissions process.
Get Involved!
Click on the links below for College Knowledge Month registration and resources for Students, Site Coordinators, and Volunteers.
We want to know why you chose to continue your education beyond high school. Tell your story in picture, video, or just a few words. Post them to your favorite social media platform with the tag #MNwhyichose. Click here to read, watch or see others' stories.
More Information