Home > Research, Data & Reports > College Readiness & Participation Data
College Readiness & Participation Data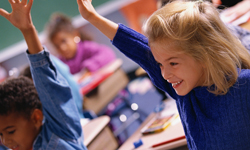 Minnesota high school student college prep activities and college-going rates
College Preparation: PSEO, AP and IB
Minnesota high school students have opportunities to prepare for college by challenging themselves with college-level courses in high school.
For more information on high school student participation in college preparation activities:
College Entrance Exams: ACT and SAT
Most high school students who intend to enroll in a four-year college need to take a college entrance exam. About 70 percent of Minnesota high school seniors take the ACT or SAT college entrance test. Scores on these tests are an indicator of the college readiness of Minnesota's college-bound high school graduates.
More information on high school student college entrance exam scores:
College Participation Rates of Minnesota High School Graduates
College participation rates are defined as the number of high school graduates who enroll in a postsecondary education institution the fall after high school graduation. Minnesota's participation rate provides a glimpse of student behavior in the months following high school graduation.
More information on college-going rates of high school graduates:
College Remediation
The report, Getting Prepared: A 2010 Report on Recent High School Graduates Who Took Developmental/Remedial Courses is prepared by the Minnesota State Colleges and Universities and the University of Minnesota. Highlights of the report include:
40 percent of Minnesota's recent public high school graduates who enrolled in public higher education in the state have taken at least one developmental or remedial course within two years after graduation. That is up slightly from a report three years ago, when 38 percent of recent high school graduates took at least one developmental course.

Most students take only one remedial course. Forty-five percent of the nearly 13,000 recent high school graduates taking developmental courses needed only one course. Thirty-nine percent took two or three courses, and 16 percent of the students took four or more such courses.

Math is the weakest area. Of all the development credits taken by the class of 2008, 50 percent were in mathematics, 23 percent were in writing courses and the rest were in other subjects, such as reading or study skills. Developmental mathematics ranges from basic arithmetic to the equivalent of high school intermediate algebra.

Students who take developmental courses are increasingly concentrated in the two-year colleges. Of the 2008 graduates who took developmental courses, 87 percent attended a two-year college, 12 percent went to a state university, and 1 percent attended the University of Minnesota.
More Information
Related Pages
Related Links