Summer Nudging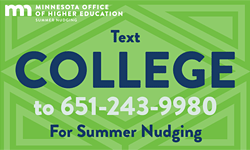 Want to Sign Up?
Text COLLEGE to 651-243-9980!
Any student who intends to go to college can participate! Parents, guardians and counselors can sign up as well. We will be texting you in February-September 2018. Students can opt out at any time by texting, "STOP" or "CANCEL."
What is Summer Nudging?
Summer Nudging is a program designed to help college-bound students successfully enter into college in the fall after high school graduation through weekly text messages, or "nudges." This is to help prevent "summer melt," which is described by the statistic that "1 in 5 college bound students fail to matriculate in the fall."
Summer Nudging Statewide Reach in 2016
The Summer Nudging program reached over 1,800 students at 300 high schools in Minnesota.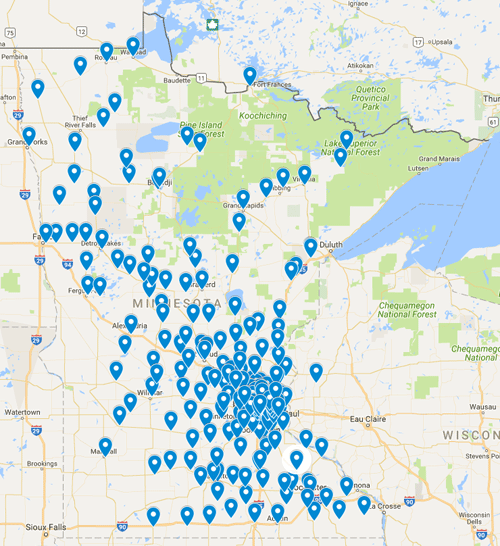 What Do We Do?
Send out weekly, individualized "nudges" January through December.
Provide assistance to students through two-way messaging.
Connect students to resources on campus such as Financial Aid, Residence Life and Counseling Services.
Translate all Summer Nudging into Spanish.
Mission
We provide the critical tools, support and guidance needed to combat Summer Melt and foster self-advocacy within college-bound students.
Who Are We?
Kathleen Klima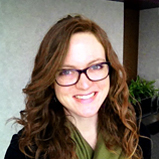 Summer Nudging Program Manager
Communications Assistant
Kathleen.klima@state.mn.us
(651) 341-6881
Marcio Thompson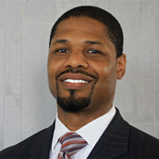 Outreach Coordinator
Marcio.Thompson@state.mn.us
651-207-9788
Landmark Study
Summer Nudging would not be possible without the foundational research of Dr. Benjamin L. Castleman and Dr. Lindsay C. Page. While graduate students at Harvard University, they studied the phenomenon of Summer Melt. As a result, they found that "an automated and personalized text messaging campaign to remind students of required college tasks substantially increased college enrollment...." More information about the book that started Summer Nudging can be found here: Summer Melt: Supporting Low-Income Students Through the Transition to College.
Newsletters
Materials to Download
Follow us on Social Media!