Home
>
Big Ed
Big Ed
The Higher Education Conference Committee met yesterday for the first time – here are just a few notes from that meeting.
Chair Pelowski thanked the leadership of the House and Senate and Governor Dayton for the target and said he expects everyone in the room to be very happy. The higher education target is $250 million, close to the Governor and Senate number.
The $250 million target includes a $17.8 million increase in State Grant available resources, due to updated projections largely based on Pell Grant changes authorized by Congress, and also enrollment changes reported in March and wage changes in conjunction with the March budget forecast. Discussions are underway as to how so reinvest these additional resources.
Senate Counsel and House Research walked through the policy language and the spreadsheet; most of the same and similar provisions were adopted.
Senator Clausen raised some concerns about the SLEDS language, specifically with regard to data privacy. These issues will be addressed in coming meetings.
Chair Bonoff told the committee they have been asked to have their committee work done by midnight on Wednesday. The next meeting has not been called, but it will likely be at the "call of the chair" after the House or Senate adjourns today.
posted by Sandy Connolly • 5/14/2013 at 9:04 AM
Over the week-end, Governor Dayton and House and Senate leadership reached a broad agreement on the state budget priorities and provided spending targets for each area of the budget.
$250 million has been designated for higher education, the most significant investment in years. The Higher Education conference committee will begin meeting today to negotiate the specifics of the bill. If the final bill mirrors the Governor's initial recommendation, it will be a balanced split between the University of Minnesota, MnSCU and the Minnesota State Grant, with some smaller investments included, as well, such as funding for the American Indian Scholarship and SLEDS.
Members of the conference committee include: Representatives Pelowski, Winkler, Rosenthal, Dorholt and Nornes, and Senators Bonoff, Clausen, Miller, Pappas and Eken.  Once they have reached agreement on a final bill, it will be returned to both bodies for passage, and if passed, on to the Governor for his signature.
Big Ed will provide ongoing updates on the 2013 higher education bill, check back daily.
posted by Sandy Connolly • 5/13/2013 at 1:28 PM
It's a new day for Big Ed! After a long hiatus, Big Ed is back on the new Office of Higher Education website. Check back often for updates.
posted by Sandy Connolly • 5/6/2013 at 2:25 PM
The U. S. Department of Veterans Affairs posted these reminders for veterans returning to campus this fall. They've included very helpful information about accessing VA education benefits, check it out!
posted by Sandy Connolly • 8/20/2012 at 9:25 AM
The U.S. Department of Education announced today a new interactive loan counseling tool designed to help college students manage their debt.
Known as "The Financial Awareness Counseling Tool", the site will help students determine both their current level of debt and get an estimate of what their total debt will be upon completion, among other features.
The Department also plans to release a model financial aid shopping sheet in the coming weeks. This new tool will help students and their parents more easily determine the actual cost of attending college.
The Financial Awareness Counseling Tool can be accessed through StudentLoans.gov at Student Loans
posted by Sandy Connolly • 7/11/2012 at 4:42 PM
Back from vacation!
Good news today about the SELF Loan interest rate dropping to 3.5%! This is good option for students and their families who need some extra funding to help pay for college.
Check out the press release:
OFFICE OF HIGHER EDUCATION LOWERS SELF LOAN INTEREST RATE
The Minnesota Office of Higher Education (OHE) is pleased to announce a reduced interest rate on the State of Minnesota SELF V variable interest rate student loan.
The new rate on this variable loan is 3.5%, down from the previous rate of 4.0%. According to Marilyn Kosir, SELF Loan Manager at OHE, the lower rate was made possible by a reduction in the margin utilized to calculate SELF Loan interest rates. The SELF Loan also carries a fixed rate option at 7.25%.
Our first recommendation to every student is to consider all options for paying for college before taking out any loan, said Kosir. However, sometimes borrowing is the only option available, so we work hard to keep SELF Loan interest rates and terms competitive.
In 2011, over 16,000 Minnesota students borrowed $85 million through the Minnesota SELF Loan program. This number was down from 2009, when $125 million was loaned to 24,700 students. According to Larry Pogemiller, Director of OHE, this drop in participation was due to the new federal preferred lender requirement, which restricts the ability of many colleges from informing students about state run loan options.
When Congress passed the Higher Education Opportunity Act of 2008, it became more difficult for students to learn about high quality, often less expensive, state-based student loan programs, said Pogemiller. As a result, students and parents often choose the easiest path, such as federal PLUS loans, which carry a higher interest rate than the state SELF Loan.
It is unfortunate that borrowing for college is costing many students and their parents more simply because they are unaware of the SELF Loan.
Minnesota is one of 15 states that offer a state loan program with borrower-friendly terms. Colleges must certify the loan, there is no prepayment penalty, and students are charged the same rate of interest regardless of the type of postsecondary institution they attend. The loans help meet the net price of attendance after other forms of financial aid are deducted.
The SELF program operates at no cost to the state, with funding provided by revenue bond proceeds, investment earnings and student loan repayments from borrowers. SELF Loans are available to Minnesota students attending eligible postsecondary institutions within or outside Minnesota and to non-residents attending eligible postsecondary institutions in Minnesota. There are no minimum or maximum income thresholds and no application fees for the SELF Loan program. Students pay only interest on their SELF Loan while in school.
For information about the SELF Loan program, students can contact the financial aid office at the college they attend or are considering attending, or contact the Minnesota Office of Higher Education at (800) 657-3866 or visit www.selfloan.org.
posted by Sandy Connolly • 7/6/2012 at 10:19 AM
Congratulations to six MN schools for being selected to participate in the U.S. Department of Education's FAFSA Completion Project!
According to the press release sent out today, Austin, Deer River, Osseo, Rockford and Warren-Alvarado-Solo School Districts will join the Minneapolis School District as members of this project.
Beginning in the 2012-13 school year, participating school districts can track whether or not their seniors have filled out the FAFSA - a necessary step for financial aid.
posted by Sandy Connolly • 5/31/2012 at 2:40 PM
Congratulations to Scott Olson on being named Winona State University's 15th president!
Olson comes to WSU from Minnesota State University - Mankato, where he was the provost and vice president for academic and student affairs.
We had lunch with Olson at MSU-Mankato during a campus visit there earlier this year. He played an integral role in the tremendous service provided to the students at Mankato, where they brag of an outstanding placement rate!
Congratulations also to Peggy Kennedy, appointed today by the MnSCU board as president of Minnesota State Community and Technical College. We met Peggy on a blustery winter day at the Fergus Falls campus when she was interim president.
The MnSCU board was clearly impressed with the work Kennedy did during her tenure as interim president. The campus connection to the regional workforce was especially impressive in light of the ongoing discussion about workforce alignment across the state.
We look forward to working with both President Olson and President Kennedy in their new roles.
posted by Sandy Connolly • 5/16/2012 at 10:43 AM
Jana Hollingsworth, a reporter with the Duluth News Tribune, did a good story this week-end on some students who found a way to finish their college education without accumulating too much debt.
As Jana pointed out, most students today find some level of borrowing necessary to complete their education. In fact, 73% of Mn students graduating in 2009 took out loans, with up to 90% of the students at some campuses.
There are ways to limit borrowing, however, but it takes hard work and planning - and learning to say no, as the students in this story found out.
Check it out here:"College Debt Load Rising"
posted by Sandy Connolly • 5/14/2012 at 2:47 PM
Last Friday, OHE policy and research analyst Tricia Grimes was surprised to receive the MAFAA 2012 Special Recognition Award at their annual conference in Brainerd. This award is presented to a person who consistently provides outstanding service to MAFAA and is affiliated with the financial aid community.
During every legislative session, Tricia provides members of MAFAA with detailed yet concise summaries of legislation that impact higher education. She also volunteers with committee members often, and meets with the Leadership Symposium participants prior to their visit to the Capitol, to name just a few of her many contributions.
The people who nominated Tricia called her a true leader in financial aid and a keeper! We agree!
Congratulations to Tricia on receiving this important reward!
paragraph text
posted by Sandy Connolly • 5/7/2012 at 5:09 PM
At the MnSCU Workforce meeting in Stacy, MN on Monday, the owner of a manufacturing operation was lamenting the lack of "soft skills" among some of his workers.
He went so far as to outline his "Ten Commandments for Career Success", as follows:
1. Be Positive - Attitude is everything
2. Show Up - On time, every day, reliably
3. Work Hard - Earn your keep, get something done
4. Get Along - Play together nice in the sandbox
5. Pay it Forward - Do more than is expected today, and you will
receive more than you expected.
6. Be Flexible - Willingly take on different tasks
7. Figure It Out - Be a problem solver, not a problem asker
8. Join the Club - Be proud to be part of your organization
9. No Whining - Communicate positively and well, don't be high maintenance
10. Keep Learning - If you don't keep up, you will become obsolete
Good advice for everyone!
posted by Sandy Connolly • 5/3/2012 at 10:06 AM
Today marks the end of Financial Literacy Month in Minnesota! True to their word, Commerce Commissioner Rothman and his staff led solid efforts all month long to help Minnesotans of all ages get the best value for their money.
The second week in April was Higher Education Financial Literacy Week. OHE had events scheduled throughout the week aimed at helping students and their families navigate the bumpy waters of paying for college.
We listened to dozens of students and their families talk about the difficulty of paying for college. Once out of school, countless students struggle to cover their student loan payments. Instead of living the dream by buying a new car, their first home, or starting their own business, many students are straddled with student loans that can be several hundred dollars a month.
This is one of the most important challenges facing our state. Check out OHE's website for more information!
posted by Sandy Connolly • 4/30/2012 at 4:31 PM
Higher Education Financial Literacy week was a great success! After our kick-off round table discussion at the University of MN on Monday, Larry Pogemiller, the director of OHE, appeared on KARE 11 with Kim Insley to talk about financial literacy and invite students and families to call in later the same day to a panel of financial aid experts for information.
KARE 11 reported that the call-in show was a good success; thanks to them for their public service.
Here are some stories about the rest of the week:
posted by Sandy Connolly • 4/17/2012 at 4:04 PM
Having trouble repaying your federal student loan? Check with the federal student loan ombudsman at: http://www.ombudsman.ed.gov/. They may be able to help!
posted by Sandy Connolly • 4/11/2012 at 3:25 PM
Thanks to all the students who participated in yesterday's round table discussion at the U! For over an hour, students from a variety of colleges shared their personal stories and challenges with Governor Mark Dayton, Senator Al Franken, University President Kaler, and Larry Pogemiller, Director of the Office of Higher Education.
Each and every student was very impressive. Even more impressive was their determination to complete their education and secure a better future for themselves and their families. Many work 2 or 3 jobs, some are single parents, and others served our country in the service.
Check out these stories for more:
posted by Sandy Connolly • 4/10/2012 at 1:28 PM
Financial Aid is not limited to low-income families. Always apply for financial aid!
posted by Sandy Connolly • 4/9/2012 at 8:48 AM
There's a lot of good stuff going on next week to shed some light on college affordability issues and student debt.
On Monday, Governor Mark Dayton, Senator Al Franken, University of Minnesota President Eric Kaler and Larry Pogemiller, the Director of the Office of Higher Education, will sit down with 10 Minnesota college students to learn about the challenges and successes they have had pursuing a postsecondary education.
On Tuesday, turn in to KARE 11 at 6:20 a.m. to see Larry Pogemiller talk about ways students can have some control over their college expenses and debt. Later that day, students and parents can get their questions answered by a panel of financial aid experts by calling KARE 11 at 4:00, 5:00 and 6:00.
More to come!
posted by Sandy Connolly • 4/6/2012 at 3:43 PM
On Monday, Governor Mark Dayton proclaimed April as "Financial Literacy Month" in Minnesota. Sophie Wallerstedt, a junior at the University of Minnesota, drew agreement from Governor Dayton when she said "I believe student debt is a national crisis that is plaguing my generation."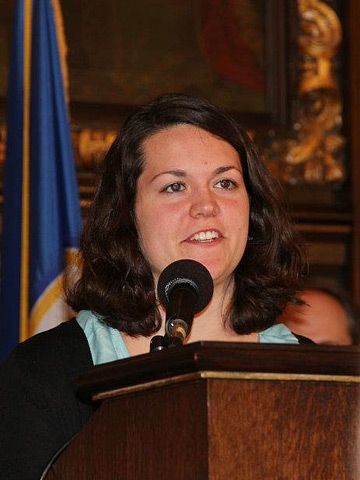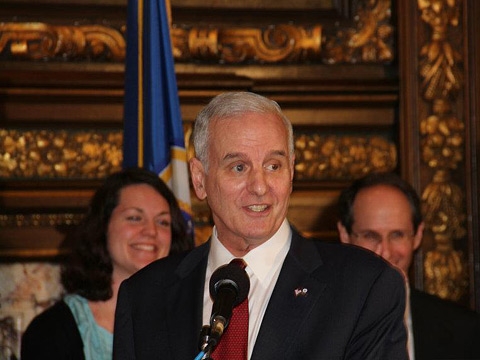 During the second week of April, the Office of Higher Education will focus on financial literacy issues for college students. Events for the week can be found on our website at:linkText
Check back often for more information!
posted by Sandy Connolly • 4/4/2012 at 12:34 PM
New information from the U.S. Department of Education gives us an early look at how many students have already filled out the FAFSA in Minnesota.
As of March 19th, the FAFSA completion rate in state public high schools is 27%. Eighteen public high schools have FAFSA completions rates of 40% or higher.
Minnesota's private high school FAFSA completion rate is 34%; nine private high schools have FAFSA completion rate of 40% or higher.
As pointed out by OHE researcher Meredith Fergus, however, the timing of FAFSA completion is primarily dictated by what school a student is planning to attend.
Based on the most recent data available (2009-2010), 86% of Minnesota high school graduates enrolling in a Minnesota college in the fall will complete a FAFSA.
More information can be found on the OHE website at: FAFSA DATA under the heading "FAFSA Data by High School".
posted by Sandy Connolly • 3/29/2012 at 4:04 PM
In case you missed it, State Higher Education Executive Officers (SHEEO) released a report last week on higher education finance for fiscal year 2011. Focusing on institutional finance, the report contained numerous graphs and charts that could be a little tough to slog through, but the real take-away was this: despite reduced state funding, Minnesotan's continue to invest in higher education - relying increasingly on tuition, which in turn is paid with a larger share of loans.
Here are two local news stories about the SHEEO report:
posted by Sandy Connolly • 3/22/2012 at 2:18 PM