Home > Outreach > Summer Nudging
Summer Nudging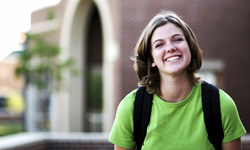 Summer Nudging was designed to offer students helpful reminders between their last day of high school and first day of college. The trial summer, 2013, was a successful adventure in combatting the phenomenon of summer melt. The MN Office of Higher Education expanded the program in 2014 to work with seven high schools and college access programs throughout Minnesota. The summer of 2015 OHE is planning to expand again and looking forward to implementing a thorough assessment of the program throughout the summer. In anticipation of another fun-filled summer of text-message and phone-call reminders for the college-bound students.
The idea for the program came from a Harvard study of the same name, which found that "an automated and personalized text messaging campaign to remind students of required college tasks substantially increased college enrollment...." In other words, students, especially students with low levels of educational attainment and few college-going supports, need gentle reminders to keep them on track for starting postsecondary education.
The nudges focused on understanding financial aid and completing forms, preparing for orientation, communicating with their campus and registering for their first classes. Summer Nudging was featured in the August 15th, 2013 Star Tribune. As well as Dr. Benjamin Castleman's work on the subject, Summer Melt: Supporting Low-Income Students Through the Transition to College.
In an effort to more thoroughly combat summer melt in Minnesota, we are accepting more high schools and college access programs for the summer of 2015. For more information or for questions about Summer Nudging 2015 contact Jen Fox at the Office of Higher Education (jennifer.fox@state.mn.us or (651) 259-3971)