Home > High School & Campus Resources > Shared Library Resources > Minitex
Minitex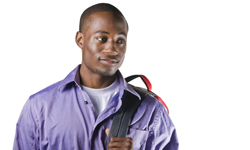 Minitex is an information and resource sharing program of the Minnesota Office of Higher Education and the University of Minnesota Twin Cities Libraries. Funded by the Minnesota Legislature through the Office of Higher Education, Minitex supports libraries serving higher education communities. Through contracts with the Minnesota Department of Education's State Library Services, Minitex also provides services for Minnesota public, school, and special libraries. Libraries in North Dakota and South Dakota participate in Minitex programs through contracts with the North and South Dakota State Libraries. As a division of the University of Minnesota Libraries, Minitex programs contribute to the University's land grant mission and outreach programs for the citizens and communities in the state.
The mission of Minitex is to enhance the effectiveness and efficiency of libraries by expanding their access to information resources and improving library service for their users. The Minitex website provides staff from Minnesota libraries ready access to a range of services. Through the Minnesota Knows portal, Minnesotans have direct access to a suite of electronic information resources including:
MnLINK Gateway; Search library catalogs and make requests for library materials held in MN libraries.
Electronic Library for Minnesota; Find online articles, newspapers, electronic books.
Minnesota Reflections; Find photos, documents and maps related to MN history.
AskMN, Ask reference questions online, 24 hours a day.
Research Project Calculator; Plan your homework assignments (a tool for middle & high school students).
In addition, Minitex provides loans and copies from the University of Minnesota Twin Cities Campus and other resource sharing services; refers requests to other libraries for fulfillment; contracts for a statewide overnight courier delivery system; provides for group discounts for scholarly and other databases for Minnesota libraries; manages the Minnesota Library Access Center (shared collection storage); supports a common database of resources held by libraries worldwide and a database of journal, magazine and newspaper titles held by Minitex libraries; and is the administrator for the Minnesota Digital Library.