Home > Research, Data & Reports > Student Enrollment Data > Student Demographics > Age
Age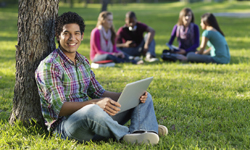 Enrollment statistics at a glance
In the mid-80s to early 90s enrollments of older students provided enrollment growth which was followed by a surge in enrollment by younger students from the early 1990s to 2000. Recently, the numbers of older students have been increasing, at both the graduate and undergraduate level.
Age of Undergraduates Enrolled in Minnesota: Trends, Fall 2003 to 2012
Data do not include high school students enrolled in college.
Source: Minnesota Office of Higher Education
Minnesota Enrollment by Age of All Students, Fall 2012
Age
Undergraduate
Graduate*
Total
19 & Younger
92,012
27%
19
0%
92,031
20%
20 to 24
130,459
39%
9,345
8%
139,804
31%
25 to 34
66,328
20%
45,098
39%
111,426
25%
35 & Older
48,838
14%
58,803
51%
107,641
24%
Unknown
1,044
0%
1,161
1%
2,205
0%
Total
338,681
100%
114,426
100%
453,107
100%
*Capella and Walden Universities, two online institutions providing national enrollment data had 21,528 graduate students in the 25 to 34 age category and 45,834 graduate students in the 35 and older age category.
Undergraduate Enrollment Change in Minnesota by Type of Institution Attended, Fall 2005, 2008 and 2012
Two-year institutions include public community and technical colleges and private career schools. Four-year institutions are public and private colleges. Does not include high school students dual enrolled.
Source: Minnesota Office of Higher Education
Enrollment Patterns by Age
The total number of undergraduates age 24 and younger increased eight percent during the past ten years while the number age 25 and older increased 37 percent during this time.
At two-year institutions, undergraduates age 25 and older contributed to the majority of undergraduate enrollment growth during the past decade; increasing 52 percent compared to 18 percent for undergraduates age 24 and younger. By fall 2012 about 50 percent of undergraduates were age 25 and older.
Two-year institutions offer occupationally-specific programs that can help older adults meet their educational goals quicker. Older adults are more likely to have family or other personal obligations making them more place bound. Minnesota has more two-year institutions than four-year institutions located in more communities around the state.
At four-year institutions, 82 percent of students are age 24 and younger. There were nearly twice as many undergraduates age 24 and younger enrolled at four-year than at two-year institutions. Undergraduates age 25 and older enrolled at four-year institutions at one-third the numbers than at two-year colleges.
Students Age 39 and Younger Earned 83 Percent of All Degrees and Awards Conferred by Minnesota Institutions, 2011-2012
Source: U.S. Department of Education, IPEDS Completion Survey
In 2012, the majority of students earning an undergraduate academic award were younger than age 40. Ninety-three percent of bachelors degree completers were younger than 40 years old with 71 percent younger than age 25.
Programs in health science fields and business are popular choices for students who earn credentials at two-year institutions regardless of their age.
Students age 40 and older were more likely to be pursuing graduate degrees, as 32 percent of masters and doctoral graduates were earned by students age 40 and older in 2012.
Enrollment in Minnesota Postsecondary Institutions by Single Years of Age, Student Level, Gender (tab-delimited text file)
More Information
Related Pages